List of amazing recreations of the famous paintings
Recreations of the famous paintings today hit a chord to the audience worldwide. Many art lovers admire the work of famous artists, visiting all kinds of exhibitions and museums. Famous pictures are presented in one copy and it is simply impossible to buy them, even offering a huge amount of money. But this does not mean that the ancient masterpieces cannot embellish your humble apartment, pleasing you and causing the envy of the guests. Photo restoration services and inventiveness will give you an opportunity to recreate all the subtleties and strokes of art, repeating every detail only in real photography.
Top 20 famous paintings recreated by skillful photographers
At the end of the 18th century, living pictures appeared in Russia for a long time. A living painting is a static set-up on the theme of any famous artists paintings. The characters depicted on the canvas were represented by living people dressed in roughly similar costumes. It was the same home entertainment as the game of charades, bouts-rimes, staging home plays. Although the scenery and costumes were selected from all that was available in the house, nevertheless, the pictures were very close to the original version and recognizable. After all, the main condition for creating a "living picture" is that the audience can guess which picture "came to life".
Today, unfortunately, no longer put home plays and do not play "living pictures". But someone did not forget about the "living pictures", they became a new hobby, moving to a new level photo remakes.
Familiar to all paintings of famous artists appear in a completely different manner. Some of famous paintings to recreate are especially popular among "photo-remakers".
Somebody tries to copy the picture, others achieve similarity at the level of "recognizability", others bring some modern details. The main thing that you can find out which of the renowned paintings breathed new start.
Along with these enthusiasts who have flooded the Internet with their recreated pictures, there are those who recreate their photos of past years for the sake of pleasure, for example, like "Before after childhood photos recreate old photos professionally" to return to our carefree childhood in this way.
So, it's time to look at the reenacted pictures which we have collected for you:
1. The work "Son of man" by Magritte for today becomes one of the easy famous paintings to copy.
2. Next comes featured "The Girl with the Pearl Earring" by Netherlandish painter Johannes Vermeer van Delft. The story of making this portrait was even reflected in the eponymous film of Peter Webber where Scarlett Johansson had the star part.
3. Mexican artist Frida Kahlo is also enjoyed great popularity with filmmakers (Frida, 2002), and her recreations of famous paintings appearing more and more. Below there is certain of them, including her self-portraits.
4. The painting "American Gothic" by Grant Wood in new manner.
5. Legendary "The Creation of Adam" was made by Michelangelo Buonarroti and recreated again.
6. "The Persistence of Memory" painted by Salvador Dalí in a very tasty and interesting version.
7. New version of journalist from "Portrait of Sylvia Von Harden" created by Wilhelm Heinrich Otto Dix.
8. Check this picture of "Therese Revant" by Frenchman Balthasar Klossowski.
9. The picture of "Grande Odalisque" is made by French artist Jean Auguste Dominique Ingres.
10. There is nothing easier to find in the province a small house and represent a picture of "Christina's World" by Andrew Wyeth.
11. "La laitière" or Milkwomanr known to us Johannes Vermeer.
12. "Lady with an ermine" by legendary Leonardo da Vinci.
13. Perhaps not so dramatic recreation of the picture, but it also deserves our attention "The Death of Marat" by David.
14. This "Ugly Duchess" was made by Quentin Matsys.
15. "Bedroom in Arles" by Van Gogh looks like a sketch rather than a real recreation of the picture, but it surprises with the similarity.
16. Another famous artwork remakes by Van Gogh is his "Self Portrait 1889" only in a new performance.
17. From afar you cannot distinguish these two photos ("Weeping Woman" painted by Pablo Picasso).
18.The Caspar David Friedrich created the picture "Wanderer above the Sea of Fog". This is another of the famous paintings easy to recreate, you only need to find the similar desert place and the appropriate weather.
19. Minimalistic paintings by René Magritte are popular, here is another find "Good Faith".
20. And finally, probably, one of the easy known paintings to replicate is "Composition With Red, Blue and Yellow" by Mondrian, which everyone can interpret in his own way.
Perhaps, you will put in mind to try to revive the famous paintings to recreate yourself or with friends. What painting product would you choose to embody?
The 66-year-old photographer recreates famous paintings in her self-portraits
American woman Laura Hofstadter became renowned in the afternoon of life thanks to her remarkable photoshoot. The 66-year-old woman turned to photo art had created a funny project. Photoshoot involves her recreating of masterstrokes of canonical pictures in a black and white photo session. Often people neglect older people, so Laura decided to show herself to society, which explains why she created the project. In other words, recreating the famous drawings, the woman not only wanted to amuse herself, but also get attention.
Laura is experimenting with the works of Rembrandt, Munch, Picasso and other artists. The photographer engaged herself in favorite hobby only at age 65. Problems with health and family prevented her from starting earlier.
This photographer did all the famous paintings recreated in her house or in the backyard, and she selected all the costumes for the pictures from her own wardrobe.
Hofstadter welcomes disharmony in her art. Instead of young ladies, as in the pictures, we see a woman whose face with wrinkles and her hair is covered with gray hair. "In our society, women of my age and older become invisible, so I wanted to make people look at the 65-year-old me as the heroine of the paintings", the photographer says.
You have probably appreciated the woman's fantasy, but we are sure that her photos based on famous masterpieces in the future will be the only photo restoration samples of her kind.
Two bored colleagues give famous paintings new life using their office supplies
Not knowing what to do at work, two web designers from New York decided to create recreations of famous paintings by the aid of a mobile phone as reported The Daily Mail.
The main heroes of the photographs are the authors of the idea themselves Francesco Fragomeni and Chris Limbrick. The main rule of creating "reproductions" is to use only improvised items and edit photos using mobile applications.
In order to share the resulting images, young people created accounts in Instagram and Tumblr, and just innocent fun turned into an art project identified as "Fools do art". Their work is becoming more sophisticated and after a while the idea was picked up and other people and accounts began to replenish not only with pictures of Francesko and Chris.
Web designers, in particular, presented fresh variants of the historic art treasures like "Mona Lisa" by Leonardo da Vinci, the already known Vermeer's girl with a pearl earring, "Christ appearing to Mary Magdalene after the Resurrection" by Russian artist Alexander Ivanov and others.
These two creative guys adhere to several standards: 1) stage props for reproductions should be taken at the work place; 2) You can edit photos only on your smartphone. If you do not put yourself in such a framework, but you definitely have ideas to recreate pictures or to recover to life your old photographs, then our article "How to colorize a black and white photo in Photoshop easy" will show you.
Despite the limitations, colleagues manage to quite authentically reenact the famous paintings. On the blackboard they paint the background, garbage packs are turned into costumes and dresses, and decorations are made of adhesive tape and paper. What began as an activity to diversify rote job has opened a result of boundless creativity, an excursion into the history of art and a graphic demonstration of the humor of two office workers.
20 popular paintings recreated by beginning photographers
Canadian artist of Japanese origin Jeff Hamada is a real fan of painting. He decided to resort to the famous paintings to recreate, which he did with photographs. For this he found suitable models and got support from amateur photographers. With the help of a small props and improvised means, he managed to "revive" the good old images in a series of photographs.
The choice was made on the canvases of such famous painters and their paintings as Picasso, Salvador Dali, El Greco and Renoir. In the end, a very interesting project turned out, this does not pretend to be accurate. Nevertheless, to consider the result of the work done is very interesting.
Jeff Hamada also decided to publish all these pictures. As a result there was a book called "Remake Project". It includes all the best reincarnations of the famous masterpieces of world painting. Apparently, neither Jeff nor his photographers have any imagination. This is proved by "Remake Project".
Famous cultural paintings that Gustav Klimt created during his "golden period" from 1899 to 1910 belong to the number of the most legendary pictures in the history of world art. It was then that he wrote the illustrious "Kiss".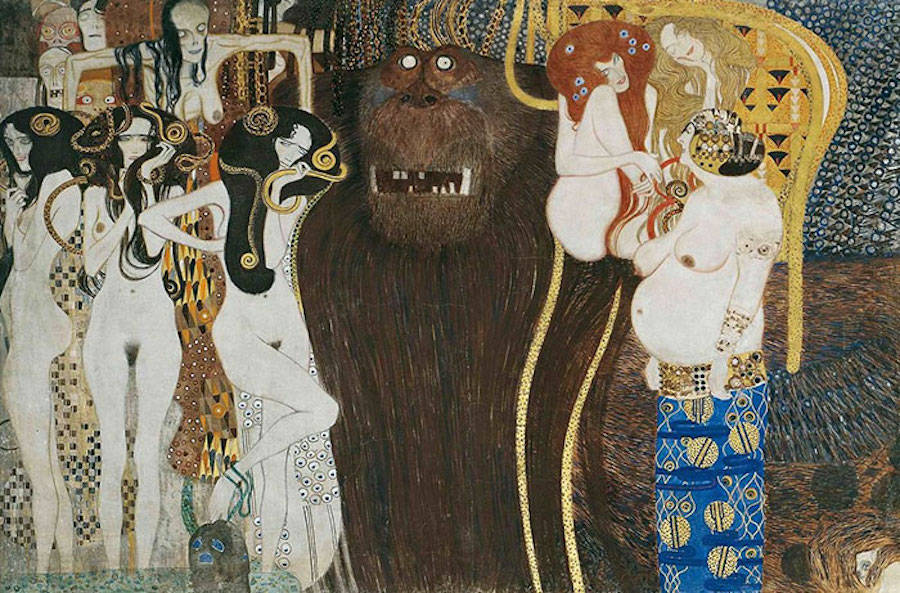 Inge Prader prepared a series of famous paintings recreated for the Viennese Ball of Life, which this year was inspired by the works of the participants of the Vienna Secession. She breathed new life into the paintings of Gustav Klimt, recreating them with the help of real models.
Harper's Bazaar restore classic paintings with the known models. At the request of the famous glossy edition of Harper's Bazaar photographer Pari Duvoric created a photo series "Art of Beauty". There well-known models appeared in the form of figures of classic and famous paintings with meaning.
The people on the project told that one of his main goals was to change society's view on the real beauty. Based on this, models for shooting were selected. For example, Candice Huffin came to fame as a plus-size model, the 20-year-old Halima Aden is the first girl to show at the fashion runway in body-covering attire, and Winnie Harlow is model noted for her white spot disease.
1. Halima Aden embodied the very popular "Girl with a Pearl Earring".
2. Winnie Harlow claimed mantle of the figure of Mona Lisa.
3. Erika Linder recreated the self-portrait of Egon Schiele "Self-portrait with a peacock vest standing" (1911).
4. Hari Nef appeared in the role of Madame X from a picture of John Sargent (1884).
5. Candice Huffin changed into the character of "The Birth of Venus" which is created by Sandro Botticelli (1482-1486).
Such amusing and interesting projects of modern remakes of the paintings are plunged into reverie across the globe and are both instructive and entertaining.
Do you also decided to create paintings revisited as photographs or retouch your old photos, but do not know what will come of it? If you want to attach your photo on the grounds of the famous picture some certainty, then all kinds of photo post processing will be taken upon our service. Our photo restoration prices will be pleasantly delighted and the choice of services will make you wonder. There is only need to express your wishes to our consultants and within a short time the work will be ready. You can send us references and any process of restoration or reconstruction will only accelerate. You can always count on our help.
Tell you friends about this article!

Would you rate the article?
The article has a rating of:
---
Would you like to discuss this article? Feel free too add comments.
Via Facebook:
Via Disqus: