Top funny old photographs
There are a lot of funny and absurd situations in our life at times. Human is a wise creature, but sometimes he or she gets up to heresy and absurdity. However, there are situations, when a man becomes a hostage of awkward behavior and action. It is especially foolish when you make fool of yourself in a crowd of strangers' eyes. And when such awkward situation is captured by photographer, then guess that your action is eternalized for a long time. In today's world, when everybody has a smartphone it becomes easy to capture any funny moments in life. The bloggers and social networks users always try to make something unusual and capture it. Mostly, the ridiculous photos and videos are liked by people. The blogger is on pins and needles to shoot something funny and surprise their followers. The nowadays funny photos are vibrant, clear and full of blogger's enthusiastic and imagination. We know a lot about the ability and talent of photographer's funny photos today. But how did the awkward images look many years ago is an interesting question.
People had a good sense of humor at all times. We can notice it, looking through funny old photos, as one of the art tools. When people practiced only black and white photography, it was harder to capture ridiculous old photos, than today. The problem wasn't contained in the absence of humor. The poorer camera facility hampered this process. Ridiculous old photos are not of high quality, but still, they reproduce those emotions. Funny vintage photographs reproduce weird situations, show regular or unexpected ones. What is more, some of the situations, which are depicted on the funny antique photos, are not strange and funny for the days they were captured, but they seem for us weird and ridiculous. We want to present to your attention vintage photos, which cause cheerful and astonished emotions. You know almost all examples of ridiculous old photos are taken by the photographer without undergoing photo manipulation services. So, let's see what make people laugh like a little Audrey in past centuries.
Funny vintage photographs
In today's world, it seems that nothing can stir up our minds. The different extraordinary looks become usual for us and all information can be found on the internet. We have access to the world's information sources and know a lot of things. However, these 10 vintage pictures change your mind. You can review thousands of web pages and read a great number of books, but you have never seen such vintage old photos. Some of them blow up your mind when the other make your skin crawl.
1. The notion of awkward costumes differs from that people had in the last century. It could be described by using an inapplicable thing in the costume creation. The old telephone, clock, sieve or pin-up lamp are usual elements of the costumes in the past. We don't argue, that today stylist uses extraordinary things to create mind-blowing looks. But the photo below looks really strange and ridiculous.
2. The next photo dates back to the 1950 year. It depicts very hungry baby bear, which gets into the café in a weird way. The bear drinks a bowl of honey, while women look for him. The photo is so cute, just due to this little animal, which sits on the chair as if it is a café visitor.
3. A little boy in the bag. Is it strange? Mostly it isn't. And what about the case of two children, who were mailed by rail and postman? It is wired. The photo below depicts a postman with a child in the bag. In 1913 the parcel post was introduced. However, it was quickly banned.
4. The next funny old photograph shows a boxing fight. You may think why is it funny when it is a fight. The ridiculous element on the shot is the second fighter. It is a dog. The boxing fight between a 10-yearl-old boy and German shepherd in boxing-gloves. 5. Grannies with the child soul and behavior are so joyful. They do things as if they become young again. Funny old photographs are one of such things. Grannies like to capture new ridiculous shots. The vintage photo below depicts grannies sitting on the bench. One of them holds huge ice-cream when the other two want and try to lick it.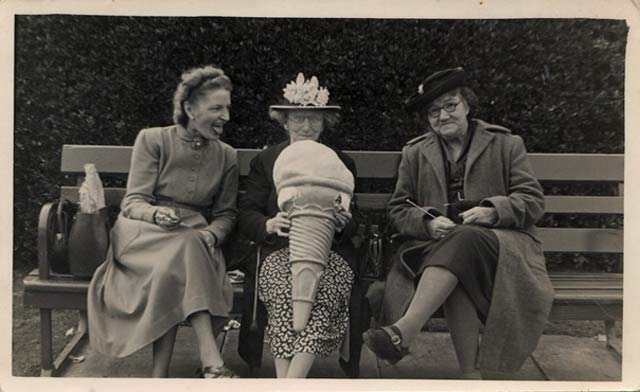 6. We don't know how to explain the next old-school photo, but it is so comic for guys of any age. A little boy in the costume of the cock, running through the meadow. At first sight, it looks terrible, but then the laugh comes to the face.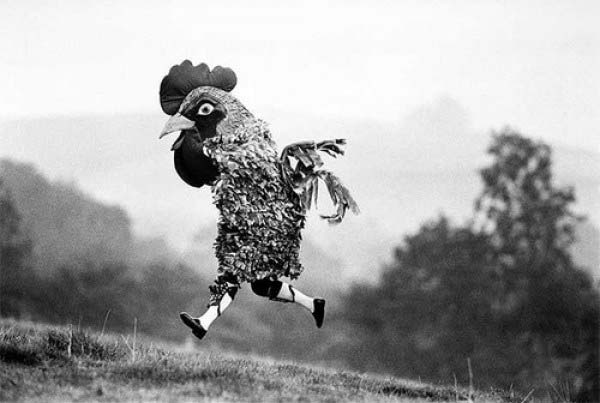 7. This vintage photo depicts two women in masks. What kind of masks are they? The masks of bat and dragonfly. It looks terrible as if the women prepare for Halloween party. However, elegant dresses suggest the opposite.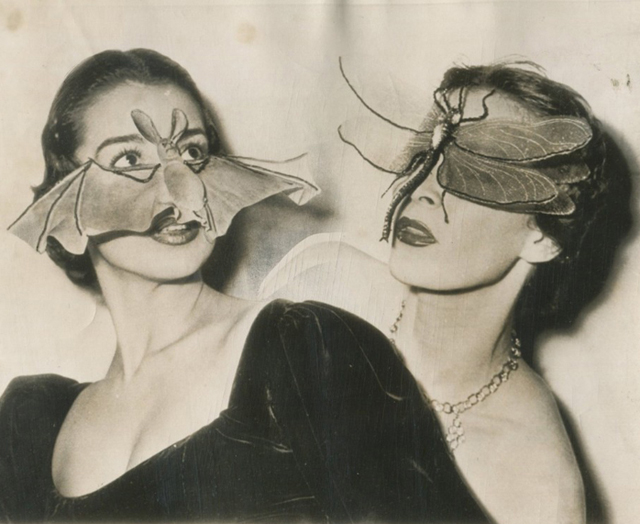 8. The old faded photo of a woman, who holds two cups of tea on her bust, looks ridiculous. Who knows what the photographer wanted to reproduce. The woman herself can't resist laughter and viewer also can't. We think it is the weirdest and funny old photo.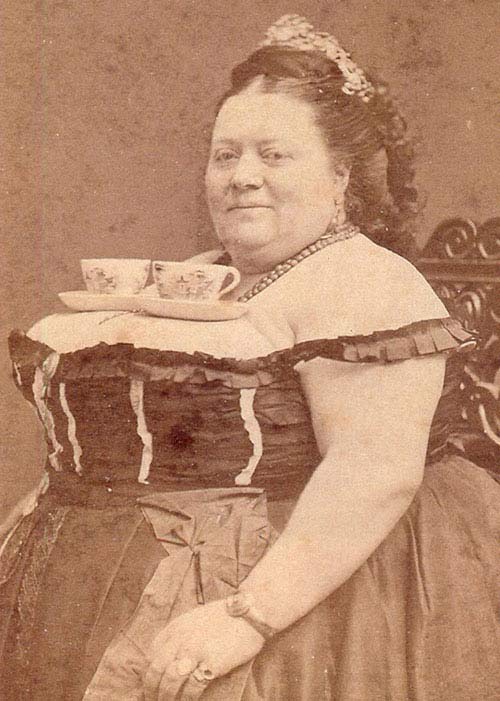 9. We have a lot of vintage photo examples, which depict little children in awkward situations. This funny photo reproduces a seven-years-old boy, who hangs on the clothesline and is pitched with the help of clothes pins. Kids always make us laugh.
10. The next photo shows a little boy with elephant toy in his hands. He stands in front of the door with the sign "Strictly no elephants". We don't know if somebody wants to walk with a real elephant, but this boy pauses to think.
The above mentioned funny antique photographs have some specific and differ from the photo ideas we have today. People always invent something extraordinary, what can astonish the others. The photo is one of such ways to have an effect on somebody. Ridiculous photos bring only positive emotions or emotion of curiosity.
Ridiculous old photos
The next section of photos includes rare old photos of the Victorian era. These vintage old photos are not serious as you thought. You know the Victorian era isn't described as an era of a smile. There was no fun and people didn't have fun. The Victorian era is believed to be strict time. The photos you will see further prove that the people of this era have a great sense of humor. The funny vintage photographs show the true way of life in that time.
1. The cakewalk dance on this faded photo shows that people knew how to kick up their heels. This kind of dance is really weird.
2. In the Victorian era, people also could make faces, without taking into attention hard times. This out of the ordinary portrait shows a lady with a funny face. We can't believe that such portrait can be found in the album of the ancestors.
3. Man in women's clothes always rises giggling. The next photo as you guess depicts three young men. The photo was taken in Yale and dates back to 1883. The makeup, wig and women's dresses make the photo ridiculous.
4. The family photography is always of great importance. Parents fill their albums with photos of them and their children. Sometimes the ordinary family photos tire and the funny photo ideas is a good way to dilute this boredom. The photo below is an awkward family photo. Even before people know the ropes of funny antique photos.
5. One of the vintage old photos depicts the women with making face. This piggy nose on her face makes the whole photo comic. Nowadays this photo would get many likes, as it a good idea for a selfie.
6. The next strange vintage photo of Richard Freiherr von Krafft-Ebing has a ridiculous look. We don't know under what circumstances this photo was taken. Richard von Krafft-Ebing was a psychiatrist. Maybe some ideas on his mind push against such photo idea.
7. The awkward ideas for group photo make the photo shooting more interesting. The unusual vintage photo of the sport team participators is so funny. Happy faces and uncommon poses do their part.
8. You know even famous people know the ropes in the good humor. The photo of Tsar Nicholas II with his friends is very amusing. This shot was taken during a golf game in 1899. The playful old men liked to have fun in all probability. When you are celebrities follower, see the article Vintage celebrity photography – How to repair old photos in Photoshop.
9. Jumping woman. It seems there is nothing funny. However, it looks like woman fly in the air. At first glance, you may think that it is a photo manipulation. However, there weren't photo manipulations in that times.
The best funny old photographs reproduce the climate of the past centuries. In all times people, create something extraordinary, what brings positive emotions. The photos, which can make laughter and rise spirit up, are always of great importance. Another interesting information about ridiculous old photos you can find in the article Funny vintage photography. The saving of all mentioned above vintage old photos is a great deal. The photographer makes many efforts to bring to life photos dated back to a few centuries ago. The restoration of old vintage photos is a hard and important process. It includes techniques, with which only professional photo editor can cope. If you think that the photo restoration and black and white photo editing is not so important, read further and we will change your point of view.
How to save your vintage old photographs?
Not everybody thinks about preserving his or her photos in the family album. With the developing of digital technology, we don't pay attention to our old photo album with faded photographs. Sometimes you can find a box with old-school on the attic and become surprised, how the images have become damaged by the time and inappropriate keeping. You just leave them in the same place, thinking that it is impossible to bring the faded images to life. However, don't forget that their images are the memories of your ancestors, events, and friends. The family old vintage photos tell the story about your kin when the faded old photos tell the history of the nations. You know we can find out many facts from the photos. Don't these vintage photos so important?
Of course, the photos are the memories. The human memory has an ability to forget things at a time. We keep a diary to write down our feelings and events or take a photo to tell more colorful about the moment. The photo restoration services is the best way to bring your memories to life. When you are good Photoshop user, you can scan the images and edit them. There are various tutorials on the internet, which help you. Here a video with some tips.
There is another way to edit the images. You can bother us with work and you will not regret.
Our photo editing group can help to improve the faded images. We work in photo retouching industry for many years. Our photo editors skillfully repair ripped and torn photos, water damage, and mold damage. The most difficult reconstruction of missing parts is not a problem for us. We also can skillfully colorize the black and white photo. The work with photo restoration services isn't as easy as it seems. Trust your images to photo retouchers. Check out the photo restoration samples to be sure in our proficiency. Moreover, we guarantee reliable photo restoration prices and high-leveled result. Send your images to us now, and your images get a new look.
Tell you friends about this article!

Would you rate the article?
The article has a rating of:
---
Would you like to discuss this article? Feel free too add comments.
Via Facebook:
Via Disqus: