Funny vintage photography in the modern world
You may not have heard about this, but there is a huge trend about vintage photographs. Why is that? They are funny, they are beautiful, they are created with a lot of visible effort, and they are very memorable. It is only natural, that these days people tend to try to keep the heritage of the past. No doubt you have your relatives' pictures and those old shots belong to your family for many years and you want them to stay in the family. But through these years many photos get torn or scratched and it is obviously sad. Modern photo restoration services allow our team fix such cases and our enthusiasm allows us give you more than you thought you would get. Not only will we return your photographs their beauty and glory, but we also will give them color, make them livelier, we will make them bright and realistic. Even if something is damaged, that is no reason to leave your beloved objects vanish and disappear in time, as there is always a way to do better.
Why it is actually called funny vintage photography? Because there are a lot of really funny pictures which could only be made in the past and many hilarious variants of modern vintage pictures. They are made with special cameras, particular set of adjustments, and peculiar image manipulations. For example, photoshop retro effect was quite popular from the nineties up to the modernity. Because of limited possibilities to make photos, fear, that those few photos, that can be made, will not be good enough, and inability to get the latest equipment because of its price, people had to compensate it all with brilliant ideas, that would later stay in the people's memory. And thus, it was a source of creativity for many specialists and viewers.
Do we need to save and collect vintage photography?
What our team can do with such photo amazes even ourselves. Thanks to the love to our job, we create perfect vintage photo effect photoshop, because digital manipulations are such a kind of art, that we have mastered. We love showing our love to the photography and helping people remember their heritage, their ancestors, their family, and so on. Memory is a thing that defines our character, precise our life experience. It is our big start, our way, our mistakes and our wins. One should not let it go easily. If you have damaged photos do not let disappointment and despair absorb you as in the twenty-first century such editing studios like our one have all the means to repair your pictures and to gift them a new life.
There are several popular trends connected with the damaged photo. We already alluded photoshop retro effect and of course vintage photo effect photoshop. When we get a commercial order, this is usually an advertisement or public service announcements. And we cannot leave unnoticed vintage poster effect photoshop as it is a popular kind of those ads. These posters and photographs serve for either selling some goods or promoting something morally important to the society. They are important for business of the big companies and private sellers as stylized photo post production makes a good ally in the process of selling something to people, especially on the Internet. We have more than ten years of the photographs restoration history, full of conquers and success. It is also a great help to any business. Remember, that we can also provide you a vintage poster effect photoshop, i.e. we can create such media as posters for the streets, billboards for the roads and highways, and so on. The list of manipulations we can exercise with an image is quite large, so take the trouble to check the photo restoration samples on our website, to find out more, what we can do for you. The variety of our services may impress you!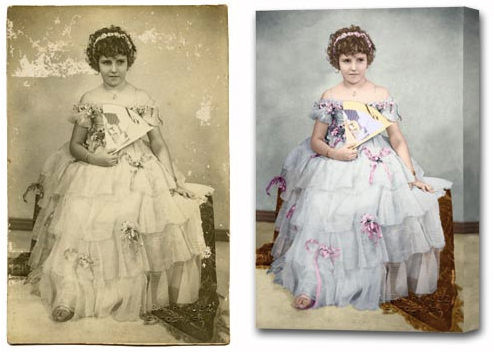 If you want to find out more about photo restoration services, do not hesitate to contact us and ask everything you want to know! We can tell you many interesting things about photography and about our services in particular. Of course, there are a lot of tutorials online, who to perform a particular kind of reparation. But they are often long and hard to understand if you are just a beginner or an amateur. Our team, on the other hand, acquires all means to provide you a qualified service and to offer you the best on the market! You do not want to repeat after somebody, you want to show something individualistic, don't you? Well, then it is your lucky day! Damaged photo restoration company is experienced, our employees are talented, creative, and attentive, they are educated in this sphere, and they have all the equipment they need and even more to make your dream come true! Take a look on any video guide. Like this one.
Do you understand everything, that is going on there? We suppose not, especially if you are not a professional in the image altering in Photoshop and any other similar program. Let us be responsible for your happiness and there is high chance you will recommend us to all your acquaintances!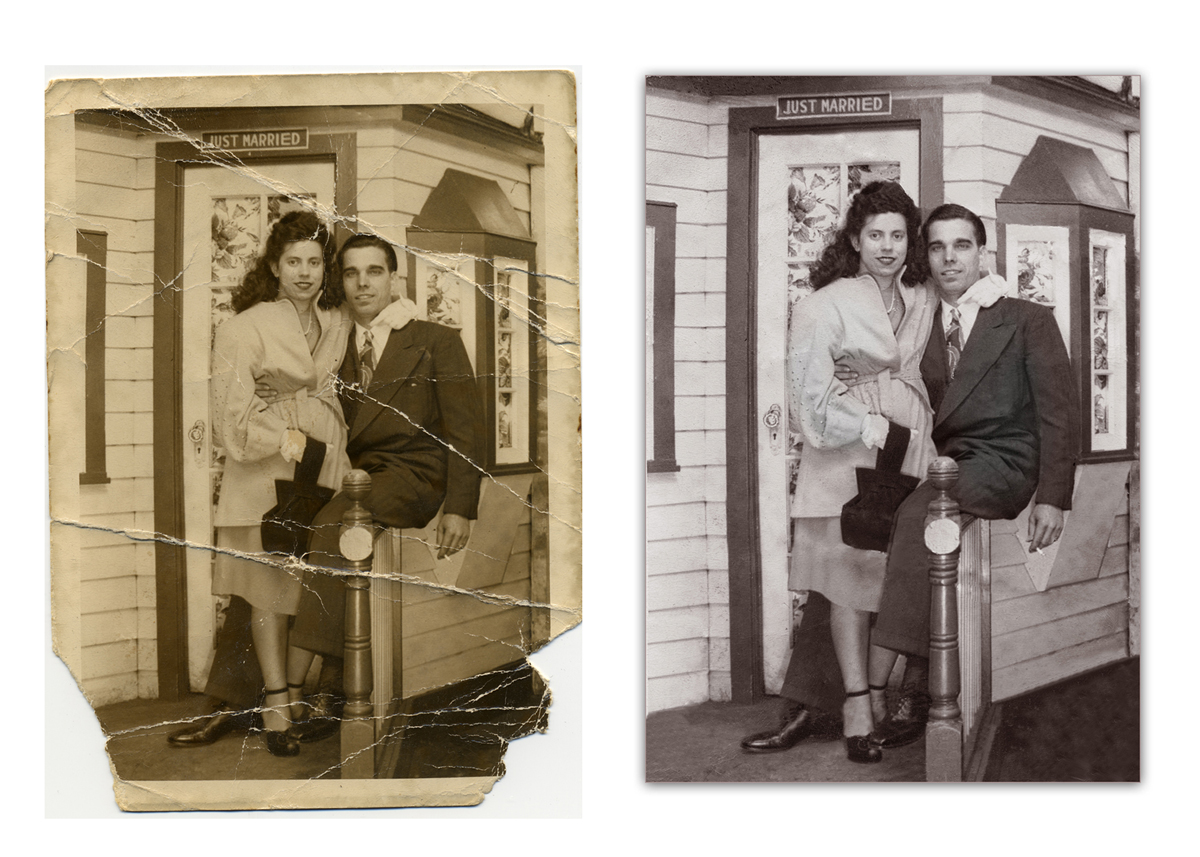 We can also divide old photo into categories. For example, portraits or group photos, families or couples, children and little babies – these are only few of possible separations. All of them have their difficulties, especially if the color needs to be added. Old photos are fragile and demand to be treated carefully until the new version is finished and printed. Of course, it is your decision whether to keep the older damaged one after you get it back, or to throw it away. Black and white photos can stay this way or get a new life in colors – it is your choice to be made. The same is true for the sepia photographs. They certainly have their own charm, but they can blossom in the bright colors too and thus become an even more beautiful decoration item of your home.
What is in funny vintage photography that is makes worth all the time, effort, and money spent on its perfection and development? We have seen thousands of different clients. Some of them are occupied in the photography field and want to practice in the vintage photo effect Photoshop, for instance, or reproduce some pictures with the modern equipment, because old photographs are a unique kind of art for them. Others want to have something cute and hilarious at the same time by their side. Someone just want to cherish family memories that are passed from generation to generation. And of course, businessmen, who see in the old pictures a way to win people's hearts and to promote their products, and government, who cares about its people and reminds them something really important in the different types of advertisements for social causes. One cannot forget politicians, who look at the vintage photography as a chance to promote their parties.
You do not even need the photoshop retro effect if you are a fan of the black and white photography, because it is a trend 'haute couture' in the world of images. These two colors allow not only create a minimalistic masterpiece, but also provoke a huge deal of humans' emotions and associations. There is no doubt, that funny vintage photography also owes a lot to those colors as humor was great even before the wide range of colors and it does not need them to be great.
Of course, antique photo restoration is a challenge for any specialist, but it is worth trying and succeeding. Any image enhancement service demand time, efforts, skills, and, of course, equipment. But it is not as important for us as clients' satisfaction. This is our ultimate goal no matter what kind of order do we have at the particular moment. Many people think that leaving photo monochrome is original in the twenty first century, many like looking at the colorful photos, even if they are very old! Nothing is too complicated for us, so relax and let us fix and change everything you want. Dirty borders of your picture, tears, scratches – everything will be restored and this little piece of paper or a digital image will look like a brand new photo. Photo reconstruction was never so easy to perform!
It is not safe to trust lonely retouchers and editors as you do not know if they are honest or it is some kind of fraud, unless someone of your friends has already used this exact retoucher's services. Of course, the same is true for the editing studios and it makes it harder for the clients to trust someone with their precious memories. We have several certificates and awards and you can study them if you wish.
We are able of performing any kind of work you might have for us. We constantly collaborate with various museums and different archives as they often have something that has to be restored. These works we enjoy as much as for private clients, because it is truly interesting and mysterious to touch a solid prove of the history event or something else. Helping organizations that give this world more items of cultural significance makes us proud of ourselves. We often perform such important tasks for free as a sign of our deep respect to the activity of those organizations and because of our desire to change this earth and to make it better. This is a great honor and we understand it. It is also useful as such cases are often very difficult and allow us improve some hard to perform editing and reconstructing techniques.
Of course, this does not mean that we do not like reconstructing private clients' photographs, because we do. They teach us history, they are cute, they are heartwarming, they cannot be left torn apart! And business clients are business clients, we know, how to make a product wanted and some kind of vintage poster effect photoshop is good in making people feel connected to the history, connected to the past. It helps people construct their personality, define, what is important for them, and what is not. It reminds us and them that we, unfortunately, do not live forever, we are, after all, mortal. We have plans, wishes, hopes, and dreams, but we must concentrate to achieve our goals.
We also do not charge our customers with insane prices, we offer anyone who is willing to fix their old photographs come and try our services. Of course, every order is discussed, until there is a strict and unmistakable understanding between the client and the editor. We also stand by our statement that client's happiness is the most important thing for us, so if you are accidentally not content with something, it will be redone until it is good. Our photo restoration prices are available twenty-four hours a day, seven days a week on our website. If you happen to have any additional questions, we will be glad to answer them.
Why turn to us and not to somebody else?
Our level of professionalism is obviously higher than other editing teams and if you compare our samples with theirs you will definitely see the huge difference. Our employees love their occupation and their inspiration bases on their internal love to the photography and their wish to help somebody else. We value each client and each order. We realize that old or even antique photos demand us to be extremely careful and we promise you to return them safe and sound after the reparation. We know that quality matters so you will be satisfied by the lack of the unwanted damages, by the colors, and by everything else. If you are worried about something, come to us and talk, because people are different and we are willing to find an individual approach to every one of you! We are ready to work with anyone on this planet, so let your picture start a new life with our help.
Tell you friends about this article!

Would you rate the article?
The article has a rating of:
---
Would you like to discuss this article? Feel free too add comments.
Via Facebook:
Via Disqus: