Top 50 pretty places to take pictures
Pretty places to take pictures are the list of destinations, which have to know each professional and beginning photographer. These are the best locations, which help you to make the photo session stunning. They are the most beautiful backgrounds. If you still do not have this kind of list, the editors of our photo restoration services prepared the top list of the best places for photography. Take a look at it, and share your opinion in comments.
The list of 50 best places for photography
What do you need for a good photo? Right, you need a professional and good equipment, beautiful model, and a talented retouching, which can easily fix all the defects and disadvantages on the picture. But you should also know that the main secret of the world's best photographers is amazing places to take professional pictures they used. We want to put you in touch with the following 50 locations for the most beautiful photography in the world.
1. Temples of Machu Picchu
This is an incredible historical see sight, which is situated in Peru. Old Incas temples attract a lot of tourists from the different corners of the world. The ancient ruins, green flanks of the mountains create really mysterious atmosphere. This is one of best places for landscape photography.
2. Ta Prohm Temple
This unique place was created by nature and time. Despite the temple is in the jungles of Cambodia, all photographers come here to take picture of huge massive roots, which cover the temple.
3. Easter Island
The far-off island is well- known because of the beautiful nature and Moai statues, which present the architectural landmark of Easter Island. The old statues and the beauty of ocean background make the photos unbelievable.
4. The Great Pyramid of Giza
This is one of the most popular tourist attractions in the world. It belongs to the list of the best places to take pictures. Be ready that the photo session will take a lot of time. It is quite complicated to take professional pictures because of the big number of tourists.
5. Aerial Views of Africa
In the Amboseli National Reserve, Africa you can find green paradise, where the rarest kinds of animals live in their natural habitat. It is totally one of the best places for photography from a bid eye view.
6. Stone Castles of Lake Powell
One more unusual natural building is located in Utah. Red sandstones, fantastic ridges and blue water of Lake Powel give you the great chance to get marvelous landscape images or to be more brave and to organize extremal photo session in the midst of stone castles.
7. Vatnajökull Ice Cave
You can find this marvelous cave in Skaftafell National Park, Iceland. It is really hard to believe that this place is real. It is a part of a huge glacier, which attract the attention of world's best photographers and is the place of interest of those people, who want to see the time stood still.
8. Reed Flute Cave
This limestone cave, which is situated in China cannot but impress with its multicolor. The photos are made there look like from the other faraway planet.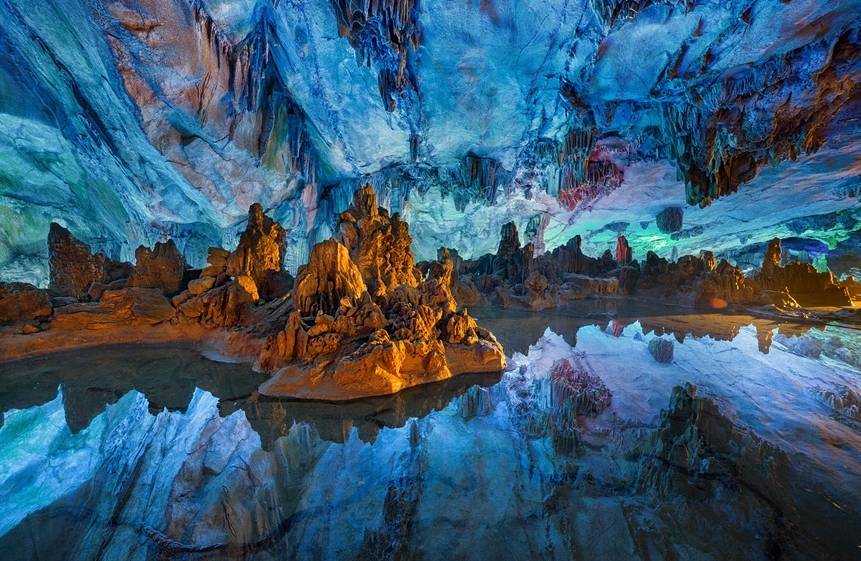 9. Salar de Uyuni Salt Flats, Bolivia
It goes without saying that this is one of the best places for landscape photography. A salt flat creates the flying effect and it is impossible to understand where the line between sky and ground.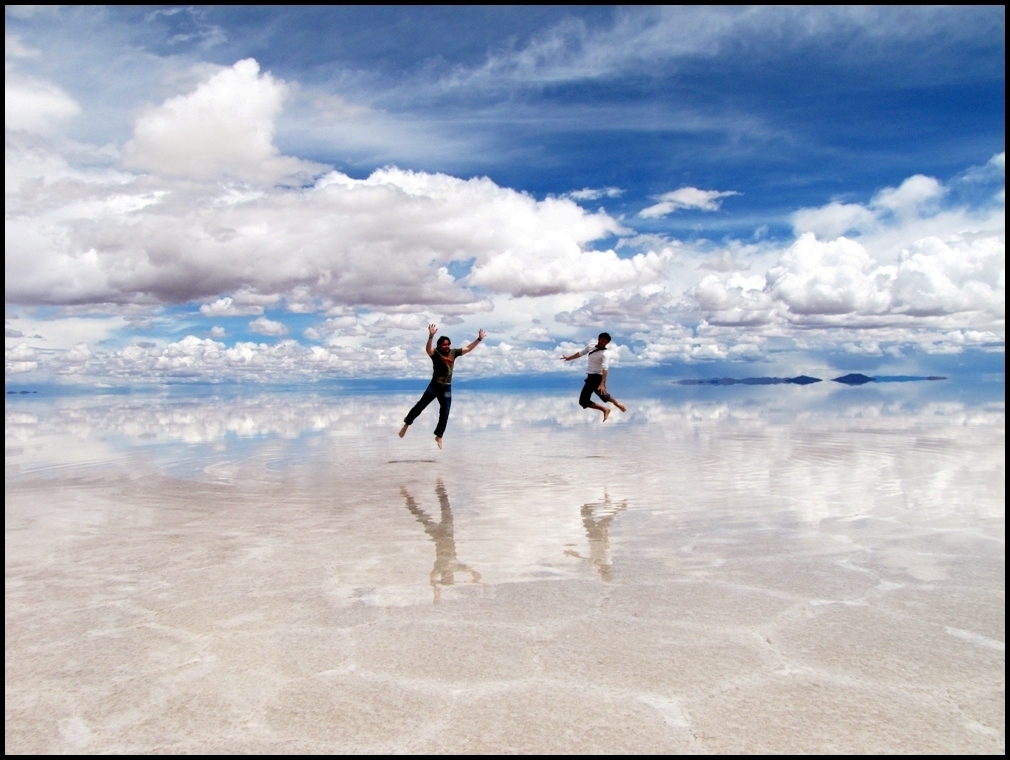 10. The Architecture of Curaçao
If you need really cool street photos, go to the Caribbean Sea. Not far from Venezuela you will discover this colorful place with long and interesting history.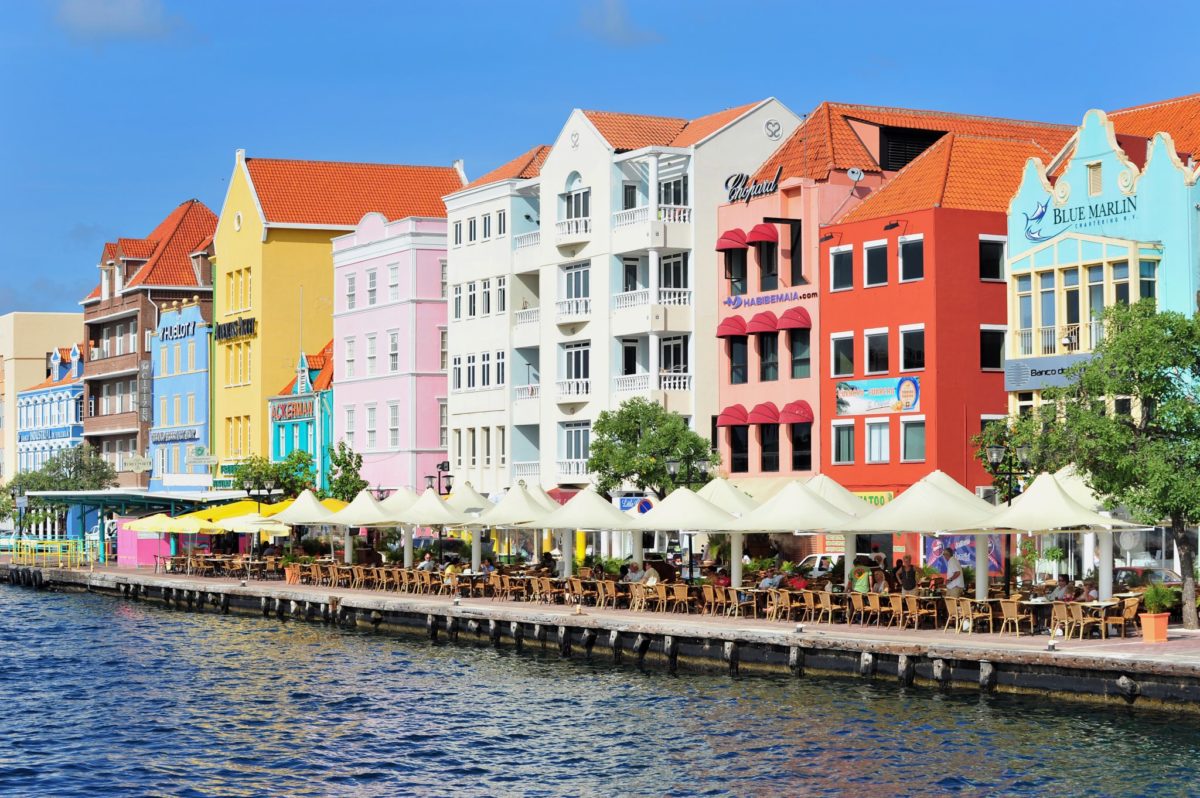 11. The Walls of Dubrovnik
In Croatia there is a Middle Age Wall, which protected the city Dubrovnik from foemen aggressions in the seventeenth century. Now this wall belongs to the number of pretty places to take pictures.
12. Coastline of Big Sur
This is one of the most outstanding coastlines of America. No wonder that even the book of Jack Kerouac is devoted to this place. The pictures are photographed here are very beautiful.
13. Chugach State Park
If your aim is to organize the session on the savage scenery background, you should visit Alaska. In Chugach State Park unites different types of natural landscapes like cliffs, ice-rivers and huge waterfalls of unique beauty.
14. Lake Clark
There is one more amazing place in Alaska, where you can put on touch with the wild nature of this American state, here you have the possibility to see such unique animals like grizzly bear, caribou and bison.
15. White Sands
The endless white gypsum desert White Sands in New Mexico helps you to underline the contrast between the bright dressed model and silent sands.
16. Haleakala National Park, Hawaii
Doubtless this park is amount the best places to take pictures of sky at night. When you stay on the beach and observe the full of stars sky, you do not need to think about the decorations for photo shooting.
17. Antelope Canyon
If you still deal with finding great photography locations, we propose you to visit Arizona. The caves of red canyon allow you to show your creativity and to arrange a photo session in Wild West style.
18. Central Park, New York
You should not obligatory go somewhere to make the most beautiful photography in the world. You can do it in the middle of New York. There are a lot of pretty places here, where you can photograph.
19. Blue Lagoon, Iceland
It is not only a perfect place for good rest and spa procedures, but also for extremely beautiful photo session.
20. The Pillars, Tasmania
This mountain ridge with its breathtaking cliffs will make any photo look fascinating. That's why this place is considered to be one of the best places for landscape photography.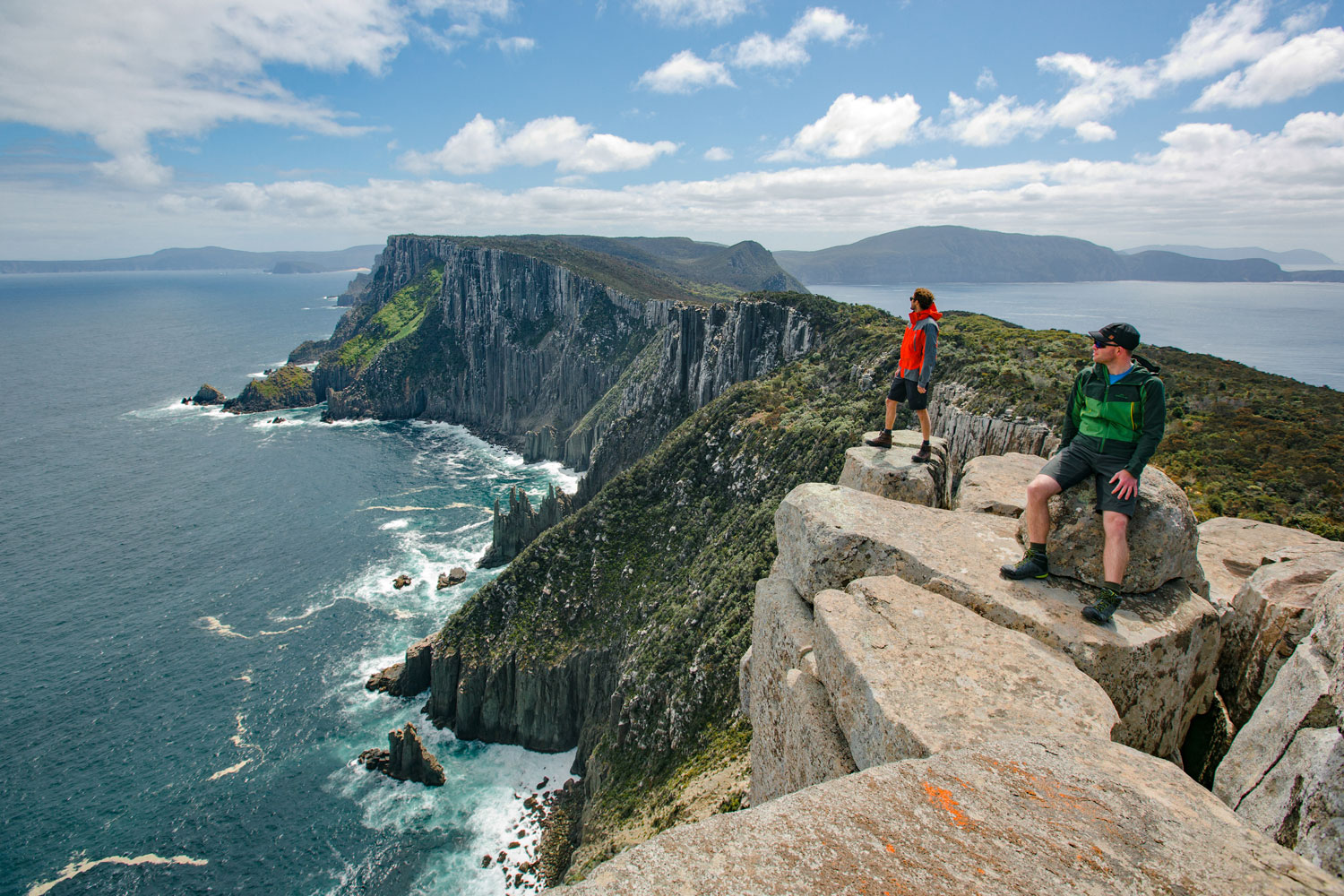 21. Holi Festival, India
If you visit this festival you must definitely take a photo. This marvelous festival is a great opportunity to add some bright and colorful photos to your album or portfolio.
22. Gray Wolves, Yellowstone
Are you afraid of wolves? Even if you are, dare to take a photo of wolf with stunning landscape on background.
23. Macau Tower
This tower is an amazing chance to take a romantic photo and show the world that you are on the top. These days it is one of the favorite places of fashion photographers.
24. Grand Canyon
This wild canyon is a definite must for wedding photo session. Come here to see the beauty of wilderness.
25. Masaya Volcano
This place is only for intrepid photographers. Take a photo here to give the feeling of danger to your viewers and prove that there is nobody than you.
26. Ouray Ice Park
This hazardous place with its ice spikes is not for everyone, but it is one time chance to take a stunning photo for your portfolio.
27. Day of the Dead
As people in the world have Halloween, Mexicans celebrate the day of the dead. You can find here a lot of scary ideas for your Halloween photo session. Read more about the best Halloween sessions at The best Halloween backdrops photography.
28. Maasai Mara
This Kenyan national reserve is areal of many wild animals. Are you brave enough to take a photo of lion or rhino?
29. The Alps
The mountains which unite 3 countries are the place of interest of a lot of world's best photographers. Here you can take a photo from the steep or climb up to take an insane panorama from the top.
30. Chicago Firework
Only once in a year on July 4 you have the unique possibility to shoot world-known Chicago fireworks. Join the million photographers from different countries and take your own shots with fireworks on background.
31. Lei Chau Island
If you are looking for an appropriate location for your urban photo session, move to Hong Kong. The skyscrapers and crazy traffic provide cool and modern look of your images.
32. Cowboys games
If you are lack of emotions and adrenaline buzz, if you are a fan of cowboy games, the Dallas festival is for you. Each your picture promises to be impressive.
33. Kumbh Mela
Every year in Indians gather together a lot of religious beliefs from the whole world. You can find a great number of old photos connected with this event.
34. Copacabana Beach
The process of sunset shooting is one of the favorite amount landscape photographers. But on the Copacabana Beach in Brazil you can also make an outstanding fashion or night session.
35. Minnesota State Fair
Want to have a good time and to get incredible images of the holiday? Minnesota State Fair can offer both of it. Bright photos and great rest is waiting for you!
36. Car Art Reserve
This is the best example of pretty places to take pictures, which underline your creativity. Old broken cars, which are bright painted, help you to take really modern shots.
37. Distilleries in Scotland
Have you ever thought about photo sessions with wine barrels? Wear impudent clothes and choose the best pose!
38. Plaza Botero
This square is a sample of city places, which are often used for unusual photos. The sculptures on the square are very funny and are play very important role during the procedure of photo making.
39. Jetsonorama
There is an interesting place in Arizona, where you can enjoy huge photos of native people. Nobody can overpass this powerful location.
40. Grand Bazaar
Every person, who travels through Turkey, must visit Grand Bazaar in Istanbul. Fancy cloth and Turkish sweets will make your photos especially sweet.
41. The Ice Hotel
Can you imagine ice hotels with frozen walls and furniture? The artists from Sweden create such place for those, who want to live a day like a cave man.
42. Museo Subacuático de Arte
If you are a professional underwater photographer, you must try yourself at making pictures in underwater Museo Subacuático de Arte, which is located in Mexico.
43. Tikal National Park
We present you one more Maya Reserve for exotic lovers. Here you will get unusual photos with ancient pyramids of Maya civilization and green forests of Guatemala.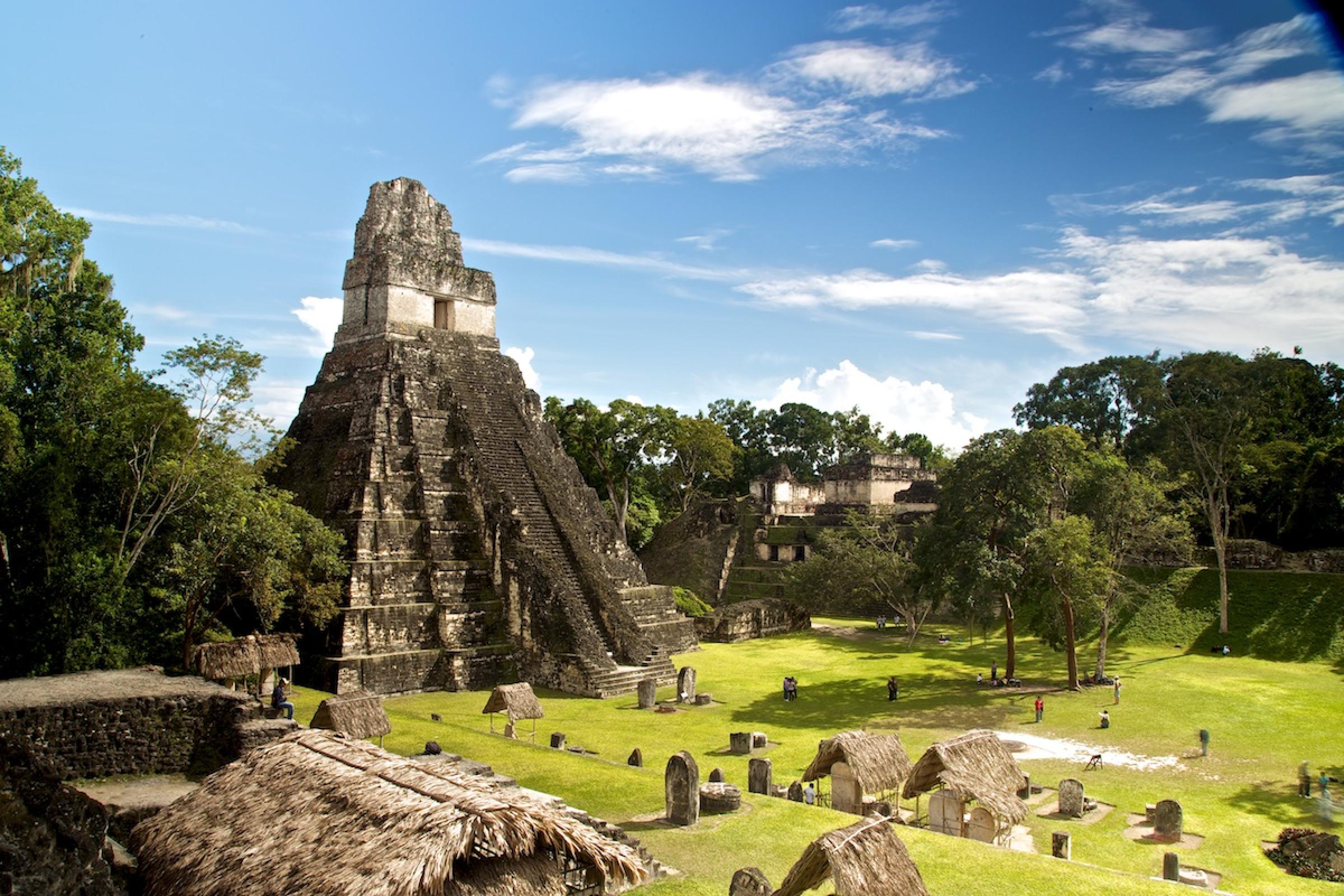 44. Temples in Bhutan
If you dream to make the most beautiful photography in the world, we know where you can do that. The monastery, which is notched out in the high is the best variant to achieve your aim.
45. Bora Bora
The lagoon of Bora Bora Island is much sought after wedding ceremonies and holiday photo sessions. The romantic nature, warm sand and clear water look charming at the images.
46. Gray Whales, California
This is one of the best places to take pictures of see animals. If you are a patient photographer, you will probably take photos of these unique mammals.
47. Havana
Cuba has been always famous with its cigar passion and desire to freedom. You have the possibility to feel it and to keep these memories at the photos made by yourself.
48. Sicily, Italy
If you desire to understand the quotation "the city lost in time", visit Sicily, meet its locals and try retro style photo session like you are an inventor of time machine.
49. The Kimberly
This place is like a magnet for landscape photographers. It has a lot of beauty spots where you can take a shot with the spirit of wilderness.
50. Torres del Paine
The last but not the least of the best places for photography is a nature park in Chile. This place looks like an illustration of some fantasy book. Its mountains, forest and waterfalls will definitely make your photo feel gorgeous.
That was our top 50, but everyone can create his/her own. Make as more photos as you can, and even if you have some incredible pictures, which are unfortunately spoiled or partially damaged, our specialists can easily fix the situation. Get know with our photo restoration prices, and compare them with the help of the article Review about the USA pricing for retouch old photos in Photoshop. Enjoy our photo restoration samples on the website before making order.
Tell you friends about this article!

Would you rate the article?
The article has a rating of:
---
Would you like to discuss this article? Feel free too add comments.
Via Facebook:
Via Disqus: