Review about the USA pricing for retouch old photos in Photoshop
Remember the accident when you had the only photo of your great-grandmother, and your one-year-old kid tore with such pleasure. Or that grandfather 'shot of the hero of the war, which has a wonderful spot from the soup.
You understand that this is the story of you and your family. And you also understand that you will never do a live picture of those that were from us. You do not ask them to smile; do not ask them not to blink. And you so want to pass this piece of history to your children and grandchildren.
Often, restorers are asked how the restoration of old and damaged photographs differs from all other types of work. The question seems strange, but in view of the fact that it is being asked more often, we decided to dwell upon this.
So, what is the restoration of photos? Restoration and touching old photos is, as a rule, the most painstaking and time-consuming process of all kinds of photo retouching.
Snapshots on paper and film negatives are fragile. Even with the most careful storage over time, photos inevitably fade. The paper turns yellow and becomes old, the film dries and cracks. But if you transfer images in digital form in time and restore them in time, priceless testimonies of history can be stored without loss of quality almost forever.
Specialists in the retouch old photographs will help to save the memory of important adventures. You will be able to bring back the photos of your mother and father, aunts and uncles, or other members of your family, and thereby make them a wonderful gift.
It often happens that fragments are lost in an old photo, including important ones. In this case, the photo can also be restored, but it is highly desirable to have additional photos to more accurately recreate the lost details of the face. In this case, the damaged fragments are drawn manually.
One of the most difficult kinds of restoration is a restoration with painting of a photo.
Restoration of old photographs is a painstaking work that requires a lot of experience and takes a lot of time. But at the same time, the restored photo will look the same as it was many years ago.
Here are the main types of touching up old photos:
- Correction of shadow and light. Edit the exposure.
- Correction of defects and interference.
- Removal of scratches, bends, stains, spots, stains.
- Removal of water or ink spots.
- Restore the damaged snippets of the snapshot.
- Restoring torn and strained photos.
- Coloring black and white photos.
Today almost every photo studio is engaged in the restoration of photography, using professional equipment and software. Works on correction of photos and retouch old photos in Photoshop include:
• digitization with high resolution;
• restore the original form of photography;
• light and color correction, retouching, framing;
• at the request of the customer coloring of black and white photos.
But, unfortunately, not always such "experts" can perform the above points correctly and qualitatively. And as a result, you will not get a new photo, and even spend money in vain, because such work costs quite a lot of money.
But if you are lucky enough to find a professional studio or a master, then you are guaranteed to receive a careful attitude to the original and high quality of the result. In addition, you can order individual options for restoration, for example, coloring or printing.
Just note that the cost largely depends on the complexity of the work. Restoration of old pictures is a responsible job, which should be trusted only by specialists. So be scrupulous when choosing a restorer.
The touching up old photos brings to life old pictures from the "pre-digital era". Each family stores photographs of different years, from the comparatively recent 80s of the last century to the unique frames of the 19th century. It's not just pieces of paper – it's a memory of our History, our ancestors. To save it to children and grandchildren is our duty.
But if you still doubt whether to make a restoration or not, or if you are looking for a good master, at the moment you have three options for the scenario:
1. Leave everything as goes. And put dear to the heart, but the spoiled photos on the furthest shelf.
2. Spend a lot of time and money to learn how to do everything yourself.
3. To entrust your precious photos in the hands of a professional and be calm for the result!
How do photo restoration prices vary?
Touch up old photos is one of the unique services provided by any art workshop.
Almost every family has an old album with photos. Do you remember how in childhood you were interested to look at these pages? These photos do not just represent some people; they show the history of your family, each picture describes a piece of life of people close to you. Alas, the photographs' live are not long. In a few years, at best, decades, you begin to notice that your pictures have lost color; they have rubbed, scratched and cracked. Often corners are torn off, especially if the photo was in someone's little hands. These problems arise in more or less modern photographs, so what about the photographs taken at the beginning of the century? Or maybe do you have photos of your family that were made in the 19th century?
How do restore the photos so that you can keep these pictures dear to you for children and grandchildren? Do you think that this is impossible? Nothing like this! Any art workshop offers you a unique service – the restoration of old photographs.
Do you want to know how old photos are being restored? Are you afraid that the service, after the retouch old photos, will spoil the original pictures? No, your damaged photo will be digitized and returned to you in its entirety. Further, the restoration of the photo will be carried out by retouching its digital image. Almost any service will perform color correction of the picture, add brightness, contrast and detail to the photo, and also can draw missing pieces so that the retouch old photos will be invisible by the naked eye. In addition, the restoration of photographs lies in the fact that they remove all the cracks and bends on them.
If your photo is taken in black and white, services can color it into natural shades, as if it was originally colored. And your pictures, after the restoration, will play with bright, juicy colors.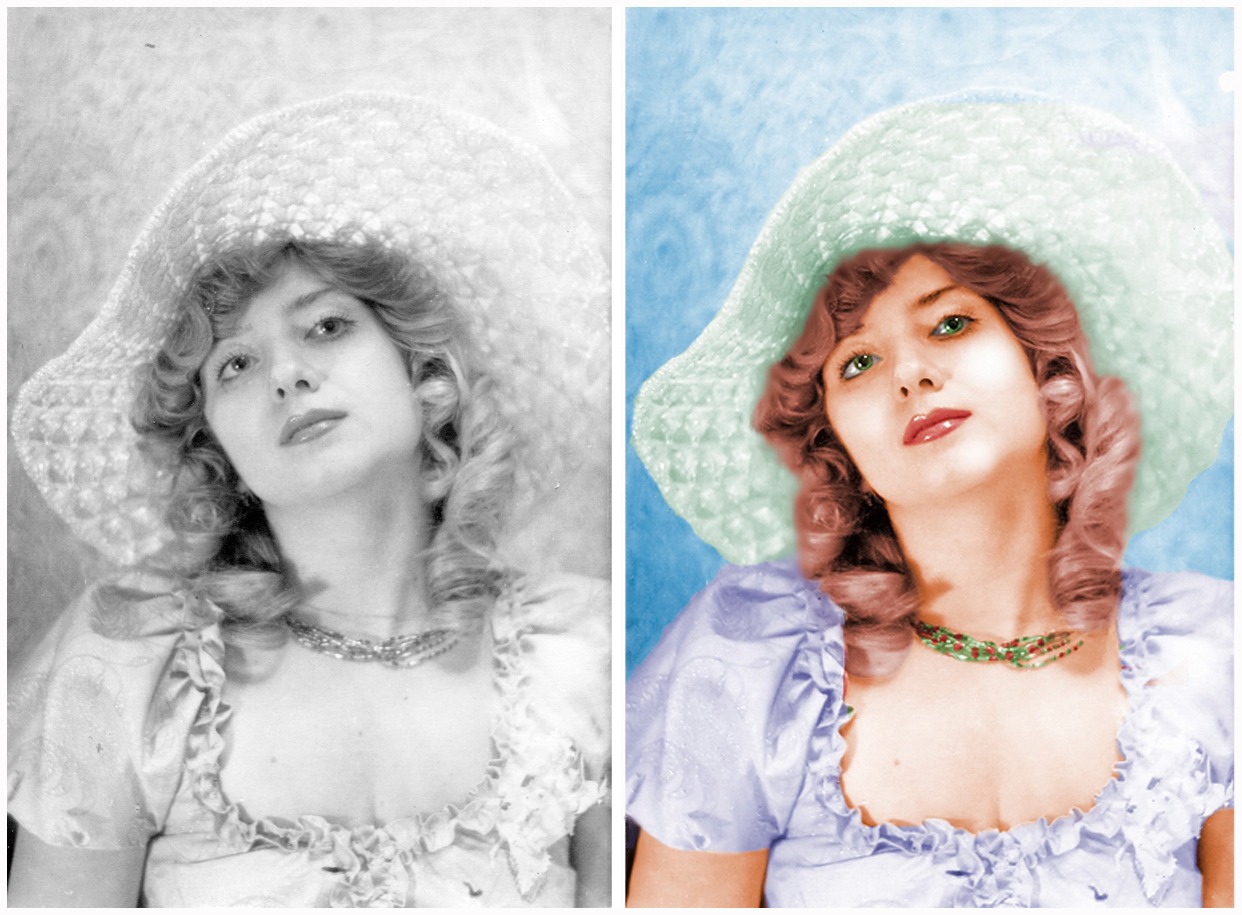 Do you think about what to give to your relatives who are at a venerable age for a jubilee? There is nothing easier: the retouch old photographs, on which these people are portrayed as young, will be the best gift for them. And indeed, the restoration of photographs of dead and gone, but loved and not forgotten your great-grandmothers and great-grandfathers, will lead parents into rapture, because you will give them dear to their heart memories. And every conscious photographic studio tries to help you make this wonderful gift.
But not every service has a lot of experience with old and damaged photos, a good portfolio and positive feedback from customers. Therefore, no matter how damaged your photo (even if it consists of small pieces pasted on the back of the tape, and shifted relative to each other), not every service will be able to return it evenness, clarity, color and detail. You can look examples of good work at "Best photo restoration examples – they know how to restore black and white photos"
Today in the USA there is a huge number of online services for the restoration of photography, and no matter where they are registered – in Los Angeles or Alabama. You can contact them online on the floating around the Internet and send them your scanned images. Another excellent variant is to find the good expert in the city and bring to him originals that he will make scan on a professional equipment and return to you the original. But if it is not always possible to find an actual workshop, then the search for a specialist in photographs is worth looking for by reviews, good photo restoration samples and adequate prices.
Depending on the professionalism, photomaster and freelance restorers form their price list for services. Undoubtedly, you can find online photo recovery programs, but are you ready to spoil your dear heart image? Freelancers also should not be trusted: they will take the order, you will pay, but you will not receive quality work. For example, in many services in New York, prices start at $ 89 per photograph, and no matter in what condition it is, the average cost of performing work is $ 150, and the maximum cost is $ 200. It's expensive, you see. In other services, there is a differentiated price list, which indicates the levels of restoration and the prorated price to them. For example, in Arizona and Chicago, the basic (light) restoration starts from $ 24.95 and up to $ 29, the major level – from $ 39.95 to $ 59, and the deepest level of processing – from $ 60 to $ 89; but still there are separate services for coloring photos ($ 24.95), Portrait Enhancement – $ 24.95. Also, almost every photo studio offers to print the processed photos in high quality: prices start from $ 1 for a photo in the size of 4X6, large-format printing 8X10 costs from $ 20. In California, you can find services where prices start from $ 39.95, but the restoration will take about 20 days, if you want to make it faster – you pay extra.
Now, after a short review, you can decide for yourself how to find the right one service that after restoring the photos, you could hang them on the wall or decorate your family tree so that subsequent generations will not forget their roots. Also, you can recreate your own photos in before after childhood style "Before after childhood photos – recreate old photos professionally"
Do not hesitate to ask questions in each workshop and each restorer. Smart experts will determine the depth of damage to the photo and discuss with you the prices for restoration, depending on the complexity of the work, to give your pictures a new life.
Make a fairy tale happen, the lost can return and the damaged to fix. Correct the old photos with the help of an expert in the restoration of images.
The photo has appeared so long ago that in each house there can be old black-and-white pictures of great-grandmothers, young still parents or faded photos of your own children's morning performances. These albums store unique moments in the history of your family, the memory of the happy events of the past. Here can be your heroic grandfather who defended the country during the Great Patriotic War or long-forgotten pictures of family holidays with a noisy company and disguises.
To lose these photos is like losing a piece of you. But photos are still paper. Even if you keep them aspirated, photo cards can still lose their colors and tints, it can be thinned from frequent views...
Well, if you have not only photos, but negatives too; in this case, photos can be easily digitized and then printed on high quality photo paper again and again. But more often it happens that the card is the only thing that remains, and often in a single copy. It does not only contain a portrait or a story, but also creases of time, stains from sloppy caretakers and scratches. Sometimes it seems that no magician can restore it to life. But in our age of advanced technology, touching up old photos with any degree of damage is possible.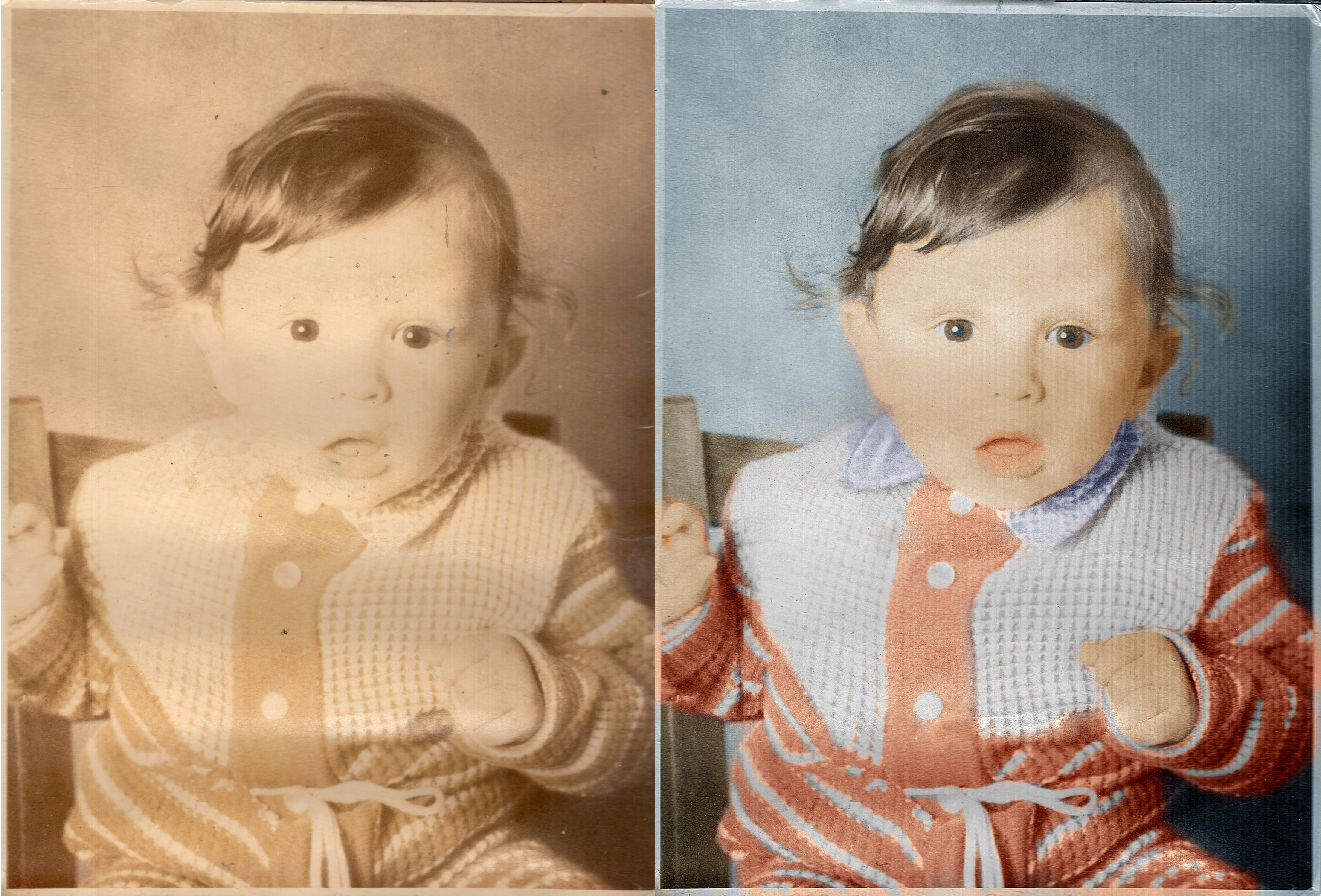 Welcome to the studio of restoration of photos
In the studio "Damaged Photo Restoration" your photo will be transformed and restored as the greatest value in the world.
We can offer you:
• Cleaning the image from external dirt, removing scratches, creases, dust and cracks;
• Restoration of lost fragments of a photo and drawing of missing elements;
• Correction of shadow and light, exposure compensation;
• Seamless gluing of ripped images even in the most hopeless cases;
• Retouching of black and white pictures, giving them color.
More information you can find on our site at photo restoration services
The complexity of the order depends on whether the photo was taken on ordinary photo paper or on embossed paper. The retouch old photos in Photoshop program occupy a special place in the range of services offered, and the most experienced masters and artists are working on them, in whose hands modern technologies create incredible miracles.
The work of masters in restoring and touch up old photos can be compared with the work of an archaeologist. To preserve the essence, do not damage the historical and meaningful value of photography; we have our secrets and cunning. Another old photo can be revived with two brush strokes in Photoshop, and the other will have to be processed long and painstakingly. You hand us a "broken" photo, but you get a full-fledged picture that you can replicate, give to friends and family, come back to it again and again, no longer afraid of losing forever.
If you want, you can make your corrections in the photo. The photomontage service like a program of retouch old photos in Photoshop allows you to add some items, dramatically change the background, and add another character (person). And also we can make its separate parts blurred or sharper, bright or dim, give any size.
Previously, life was no less vivid than now. But photography of that time could not convey this. Therefore, coloring and color correction services are very much in demand today. The pictures are natural and pleasant to the eye.
You can safely give the photo to retouch old photographs to creative workshop "Damaged Photo Restoration", without fear of loss. We will not only preserve, but also transform the dear ones from your family and personal albums. They will look like newly printed.
Feature of our online-workshop
The restoration of photographs is one of the most complex processes, which requires not only high professionalism, but also a very delicate handling of each specimen. We have all the necessary technical means and computer programs, but we practice a different approach, performing all operations manually. Automatic processing of photographs deprives them of a special aura, and only manual retouching technology is able to preserve that elusive time patch that is present in all old photographs.
For a visual representation of the final result, you can see examples of restoring photos on the site and estimate the level of our professionalism. Our services include not only the full range of services necessary for complete restoration and retouch old photos, but also the aging of new photos, color correction, retouching (including color photo retouching) and photo-to-digital conversion. We will completely correct the image and perform a quality photo retouch so that you can pass the family photo album to your children and grandchildren. We take into account all your wishes and guarantee the minimum terms for the execution of the order, regardless of complexity and labor intensity.
Trust, sincerity, friendly atmosphere during work – and an excellent result in front of your eyes!
We love our work; we live it and try to make it as beautifully and qualitatively as possible, taking into account your wishes.
Tell you friends about this article!

Would you rate the article?
The article has a rating of:
---
Would you like to discuss this article? Feel free too add comments.
Via Facebook:
Via Disqus: