Photo Restoration Photoshop Tutorials
Photoshop photo restoration is a complex type of photo editing in Photoshop that requires a hands-on approach. This article provides in-depth video tutorials, that should help you get to grips with the topic. You'll get a comprehensive look into photo restoration work: learn how to fix damaged photos in Photoshop, discover the best photo restoration softwares, old photo restoration apps and much more.
---
Сontents:
---
How to Restore an Old Photo in Photoshop?
Do you think that your photos can be saved forever and nothing will happen to them? You are wrong, because, in fact, your photographs may be damaged by the sunlight, humidity, water, and mud. Of course, it is not going to happen within a day, week, or even year, but you should expect some deformations through years anyway. In some cases, photos may be damaged even as a result of incorrect storage.
Old Photographs Restoration in a Digital Way
If you want to restore your old photo at home, you can buy a scanner and a photo editing software for your PC.
Manual Old Photographs Restoration
If your photos have minimal damages, such as curved edges, small tears, dirt and so on, you can easily fix it manually. Though it is less effective than the digital way, it is quite enough for such little defects.
Services for Photo Restoration
The perfect way to restore damaged photos is to use a restore photograph services. The professional restorers will provide you with the high-quality level of photo fixing, colorizing photos, etc. Their newest techniques help them to bring even the most damaged photos back to life and make them spectacular again. So, if you do not have enough time or desire to do the photo restoration, such services are at your disposal.
Now are going to share some useful digital restoration secrets.
Photoshop Photo Restoration Tutorials
Do you have your favorite photo, which is torn, worn out or faded? You probably want to restore it, and we know how you can do it professionally. We have made a list of tutorials, grouped in accordance with the damage type.
Torn Photo Restoration Video Tutorials
The most widespread way of photo damage is tearing. If you have some photos, which need to be restored, starting from small scratches and ending with photos torn in pieces, watch these video tutorials to learn how to make old photos look new.
How to restore an old torn photograph, using Photoshop
From this video, you will learn how to give your torn photos a new life. You will be definitely surprised with the results, as even severely damaged can be repaired.
How to restore an old photo in Photoshop – A Phlearn Video Tutorial
This tutorial consists of 2 parts. This is the first one. You will see how the editor teaches his mom how to repair the frame and the missing parts.
How to edit damage photo in Photoshop – A Phlearn Video Tutorial
This is a continuation of the first tutorial. Here you will learn how to repair tears and creases of your photos.
Old photo restoration Photoshop tutorial about reconstruction torn pieces
Do you want to "vitalize" your torn photos? An expert Andy Anderson will help you, giving all the necessary directions in his tutorial on how to restore such photos. This tutorial is extremely interesting as Andy shows how he fixes the images of a divorced couple, who decided to renew their relations.
Water damaged photo restoration video tutorials
It happens quite often that the pictures become defective as a result of water influence. Many people believe that there is no way to "save" such shots. What would you do in such a situation? The photos can be re-colored, re-toned, and their parts can be rebuilt. Some of them can also be cropped, and even those photos with damage on the central part of the image can be saved. In fact, there is a way out of any situation, and you will assure yourself of it.
Photo restoration Photoshop time lapse
In fact, this tutorial will be of a great help for skilled Photoshop users, as there are no instructions or voice audio. But you will cope with all the tasks, just following the editor's instructions. Observe what he/she does and repeat the actions on your computer.
Old photo restoration Photoshop – Live Stream
Even if you are a beginner Photoshop user, this one hour-video tutorial will show that everybody, who has enough desire, can renovate the images. You will feel much more confident after watching the video.
Color correcting faded photos video tutorials
Old photos tend to fade with time. The black colors usually become washed out, and the whites become greyish. Multicolored photos undergo the same changes, with their colors become lighter.
You can improve the situation, by scanning the photo and editing in the appropriate editing software. Nowadays, there are many programs you can use Watch the following tutorial and learn how you can do it.
Photoshop photo restoration
You are already familiar with PHLearn videos. This guide will help you to learn the secrets of restoring faded photos, correcting colors, adjusting the balance, and black & white layers.
Fixing old faded photos
You will be able to turn your old photos into new ones, and vice versa, to add some retro effect to your new pictures, just using the combination of different tools in Photoshop.
Photo restoration Photoshop from A to Z
If you do not know what to start with, this workshop by Eric Basir will be a great starting point.
Black and White Photo Colorization video tutorials
B&W photos were popular in the early 19th century. People switched to the colored photos in the middle of the century, but black&white pictures are still popular enough. In fact, there are a lot of 'wrong' tutorials on the web that will give you nothing. So, we prepared a list of great guides that will undoubtedly help you.
The goal of restoring old photos is not to get the images that will look as they were taken just several minutes ago. The goal is to preserve their retro style, make them look appealing, using the color correction.
How To Color An Old Black & White Photo
The PHLearn editor will help you to learn more about the process of coloring the faded photo. This technique was very popular in 1908.
How to colorize a black and white photo with Photoshop
The understanding of how the light and the color interact with each other will help you to colorize your photos in the most natural way.
How To Restore Old Black And White Photo To Colour Photo
This video will also require high Photoshop skills, as there is no explanation of the actions done by the editor. If you cannot keep pace, you can always slow down the video.
Best photo restoration softwares
Does it seem difficult for you to choose the most appropriate software among the thousands of variants? Do not worry, because we have created the list of the most popular programs for you to choose from.
Photo restoration software for Windows and Mac
---
Adobe Photoshop
Price: $19,99 per month
Compatible with: Windows and Mac
It is probably one of the best software for photo editing. In fact, there is a great number of functions available, so restoring of an old picture shouldn't be a problem for any old photo restoration Photoshop editor. The convenient Clone Stamp Tool will help you to copy the pieces from nearby areas and, in such a way, remove all the damages of the picture. Of course, it may take your time to learn everything about PS, but as soon as you become a skilled user, you will have all the advantages of photo restoration work.
---
Gimp
Price: Free
Compatible with: Windows and Mac
It is an excellent free photo restoration software with wonderful tools that will enable you to perform fixing of damaged pictures. To restore faded photos, you can set up a color adjustment, and such tools as Clone or Unsharp Mask will help to create perfect images. With the help of this software, you will be able to show your skills and creative approach. In the case, you haven't been familiar with Gimp before, you'll need to spend some to understand how everything works.
---
Corel Paintshop Pro
Price: $85
Compatible with: Windows
Some people believe that this is the best photo restoration software, which has stood the test of time. It gives the users a large variety of manipulation ways to improve digital photos. The newest version of this software has a great One-Click Photo Fix feature, which can help you to do perform photo restoration Photoshop much faster.
---
FotoPhire
Price: $49,99 a year, $79,99 full license
Compatible with: Windows
You won't probably have any problems, performing photo repair, using this software. It has a great Photo Eraser mode, which will help you to delete any element you need. In addition, you will be able to use Crop and Clone equipment in order to polish your old image.
---
Affinity Photo
Price: $49,99
Compatible with: Windows and Mac
This restore old photos software may be perfect if you want to restore the images in the faster way possible. Due to the great set of tools designed especially for professionals, you'll be able to make a quick photo retouching as well as to create some huge multi-layered images.
Best app to restore old photos Android and IOS
Editing photos on the smartphones can be as comfortable as on PC or Mac, so we have collected a list of the worthies mobile apps for photo editing.
---
Adobe Photoshop Fix
Price: Free
Compatible with: Android and IOS
Adobe Photoshop Fix is a simple and powerful photo retouching &restoring app for your smartphone. A great number of different options and adjustment will be at your disposal, using which you can achieve a desirable effect. You can sign in to Adobe Creative Cloud in order to have an access to the edited photos on your phone or a desktop and use them for the further tasks.
---
SnapSeed
Price: Free
Compatible with: Android and IOS
Snapseed is a great editing app with a variety of different functions. It is famous for its diversity of basic and professional tools as well as for its convenient and understandable menu. You will find such basic settings as exposure and brightness, combined with pro-level ones, such as white balance, for example.
---
Touch Retouch
Price: $1,99
Compatible with: Android and IOS
If you have to remove some unnecessary elements in the photo, this app is ideal for you. It is quite comprehensive, easy to use, and very effective. With its help, you will be able to make your images much more professional. Just a few taps and all unwanted details will just disappear.
---
Photo Fixer
Price: $1,99
Compatible with: IOS
Photo Fixer is a new great app for your iPhone, iPad or iPod Touch, which will help you to delete unnecessary items from your images. While other apps just crop the whole part of the picture, this one uses proficient algorithms to fill the removed area with suitable textures.
---
Filterstorm
Price: $3,99
Compatible with: IOS
This app has a great number of powerful tools, such as curves, color correction, reduction of noise, layers and so on. Here you can also work with brushes, vignettes, gradient, and color range.
Photo restoration courses
When you try to understand how to fix damaged photos in Photoshop, you may become confused, because there is lots of information to grasp. For you to master photo restoration Photoshop and learn all the peculiarities of the photo repair, we have prepared the list of the best courses, which will be very useful. You will be educated by the real professionals, who are willing to share their knowledge.
Learning Photo Restoration with Photoshop with Bryan O'Neil Hughes
Thanks to the detailed instructions of this course, you will learn how to save your precious images. At the very beginning, you will be taught how to convert still pictures to digital files. Then, the instructor will explain the basics of the pre-preparing stage of further photo restoration work, which includes:
− cropping;
− color & tone enhancement;
− sharpening.
These manipulations are done in Lightroom.
If you are interested in more serious damages, get ready to find out how to repair old photos in Photoshop and correct stains, scratches, "enliven" the pictures with bright colors and borders.
Bryan has a very generous bonus for the most enthusiastic students – he tells about his personal experience and shares some very effective tips. This course is meant for photographers of different levels and genres.
Photo Restoration with Photoshop Tutorial by Udemy
Completion certificate – all the participants get a Verifiable Certificate.
This course is taught by a real Adobe Photoshop expert, whose name is Andy. He knows his craft very well and is glad to teach people how to fix old photos in Photoshop. Andy is a very skillful instructor, who manages to explain difficult things in a simple, interesting way. This old photo restoration Photoshop tutorial is created for people, who already have some basic knowledge of the restore old photos software and want to master their skills.
Become a Photo Restoration Specialist by Lynda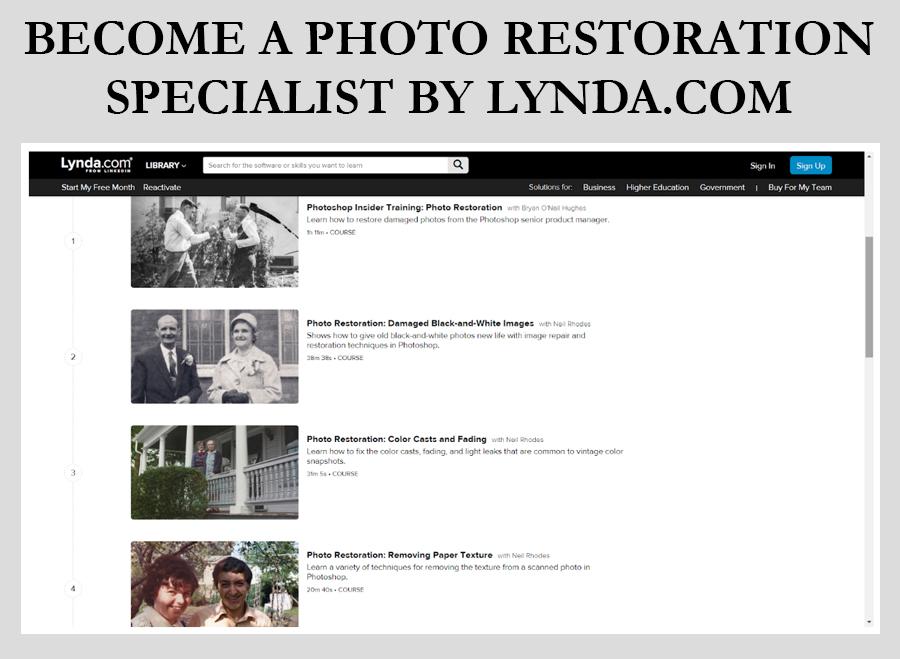 You may learn old photo restoration Photoshop techniques as your hobby, or use this knowledge for your professional development and become a real specialist. Thus, you will be able to earn your living. Every student will learn to repair a torn photograph and will understand how to fix a ripped photo in Photoshop. Besides, the instructor will dwell on:
texture removal from digital edits;
possible ways or missed parts reconstruction;
color correction;
background replacement and so on.
Advanced Photo Restoration with Suzette Allen
Suzette is a super talented person, who knows very simple and effective methods of Photoshop photo restoration. You will be pleasantly surprised when you'll learn the hidden ways of coping with the time-consuming repairs, color correction, and the recreation of absent parts. In fact, you will be taught lots of useful and easy Photoshop manipulation, starting with layers adjustment and ending with the blending. If you believe that some damages are impossible to improve, Suzette will prove that almost any torn photograph can be brought to life.
Photo Restoration & Retouching Foundations Course by Photografix
Very diligent students, who want to get a combination of theoretical and practical videos & tasks, will definitely admire this course. Primarily, you will learn how to restore an old photo in Photoshop and Photoshop Elements. To structure all the information and revise it later, you will receive a PDF-format workbook (100+ pages). Every participant can download practice files and Quick Course Supplement as a bonus. The effectiveness of the course has been proven by its testing in live classrooms. The students demonstrated deep knowledge and skills when they had to restore damaged photos and perform other image improvements. You will also get 1-Year Free Phone/Online Help.
Photo cleaning tips
You may feel very anxious to start scanning and restoring the pictures, but the first thing to do is to clean them. If you have to restore damaged photos, we have some tips on how you can clean and improve them.
In fact, you should estimate the condition of a picture and the seriousness of the damage. These factors determine the way of further photo restoration Photoshop. Besides, you have to be very attentive with a photo, as its surface may peel away and you just can't clean it. This usually happens with images that have been wet for a long time. To check if your photo can be cleaned, start working neatly with its corner part and see what will happen.
Some water damaged photos stuck together and their surfaces are usually very brittle. So, don't dab the surfaces.
How to dry wet photos
You may wonder how to save photos after a flood? There are several possible ways we would like to tell you about. If your photos were damaged by muddy water - watch this video to find a solution:
Now, let's look at the process of cleaning and drying wet photos:
If you work with a photo, which is almost/completely dry, start removing dirt from the surface with a soft brush. If you have none or the picture is partly wet, proceed right to the second step. The thin rubber gloves are the must! It is advisable to use the medical gloves.
Remove mud, by passing the picture through warm water (approximately 20-30°C, 68-86°F). Remember – you should never scrape the image, as you can damage the surface irreparably.
Drench the photo in clean water of an indoor temperature.
While soaking, use a soft brush or your finger to clear the remains of the mud from the surface. You should begin from the sides and move to the central part of the water damaged photographs, where the object is typically situated. You should be very attentive and keep an eye on the conditions of the photo. Remove dirt from the hind quarter. Keep in mind that a standard paintbrush is more effective and handy than your finger if you need to cope with such a task.
It happens quite often that the surface changes the color. It means that the image is severely damaged and you should stop the manipulations. So, if the surface is badly damaged, you may feel that it is slippy, even if you wear the gloves and water damaged paper recovery becomes questionable. Such pictures should be slightly swilled in water.
After the cleaning, use clean cool water to rinse the pictures and leave them in a dark place to dry. Choose a room, where the pictures will be protected from dust. You can lay the photos on the paper or hang them around, fixing with the clothespins. Mind that they must parch up naturally, without the usage of a hair drier, as it may cause the image to curl up.
Putting the photos in the sun is also a very bad idea.
Try adding the weights to the tips, which hold the photos, to prevent any curling.
Cleaning water-damaged photos in albums
It happens sometimes that the whole photo album requires Photoshop photo restoration. For the times, when you have to remove old photos from a sticky album, follow the instructions in the video:
If you have to restore old photos, which were spoiled by water, follow these steps:
It is extremely difficult to perform photo repair if pocket albums or the ones with plastic pages, as they can remain wet for a long time. The surface of such pictures is usually red, yellow or white depending on the damage. If it seems that the colors have dissolved, the image may be washed out just when you soak it in the water. In such case, it is recommended to clean the plastic sheet with a sponge and take a photo or scan it before doing photo restoration Photoshop.
If you work with any other type of the album, it is important to dry it before cleaning.
First of all, remove all the mud with a soft brush.
Then, put on the rubber gloves and sop the album in clean water (20-30°C, 68-86°F). The album may quite large and you will need a capacious container to soak it. On the other hand, you can cut or take the album apart and sop each page separately. Choose the most convenient option.
Be attentive and try not to damage the surface of the pictures. Peel each photo from the frame or the backing paper. Swill the photos you get in water.
In case the photo prints are still slightly wet, you can rinse the image and easily remove all the mud. If the picture is seriously damaged, some of its parts may be peeled away. You just have to remove the print only and leave the surface untouched.
When the photo prints are peeled away, rinse them in cool, clean water and dry in a dark room. You may just put the images on the newspaper or hang them on a rope. Anyway, you need them to be absolutely dry, without using fens, as they may change their form.
Cleaning photos stuck together
The mechanics of cleaning photos stuck together is pretty similar to the previous ones. Be very careful and don't try to pull them apart.
All your manipulations have to start with putting on the thin gloves. If the photos are dry, you can remove the dirt with a soft brush. If the pictures are still slightly wet, you have to soak them in warm water. Your movements have to be slow and delicate. Disunite the stuck photos gently from top to bottom.
If the photos are facing each other or the album backing paper, they have to be soaked in water enough very well. Otherwise, you may damage the surface.
In fact, this is not a very fast process. Water must get into areas between the pictures, so you may need to wait from several minutes to a couple of hours. Then proceed to pulling the photos apart, but do it slowly and neatly, starting from the edges. The images you get must be rinsed in cold, clean water. Dry them in a dark room without direct sunrays.
Not every professional photographer knows how to restore damaged photos. Using Photoshop or old photo restoration online the tasks seems to be rather simple. We hope that you have discovered some useful ways of photo repair that will enable you to "save' the most hopeless images.
Tell you friends about this article!

Would you rate the article?
The article has a rating of:
---
Would you like to discuss this article? Feel free too add comments.
Via Facebook:
Via Disqus: