Crazy ideas and examples made by funny photographers
Funny photographer - is the person who is ready to do anything to get the perfect photo, even if it's difficult and not convenient. The devotion of some of the best photographers of the world to their craft is incredible and can be outstanding. For example, in order for animals to become accustomed to the presence of photographers, latter can spend in the wild nature of the week, living in camps.
Due to this they can get amazing and rare images of animals, which other photographers can only dream of. But the received photos can be a bit difficult to edit because of the conditions in which they were made. Sometimes they even have to seek help from photo restoration services.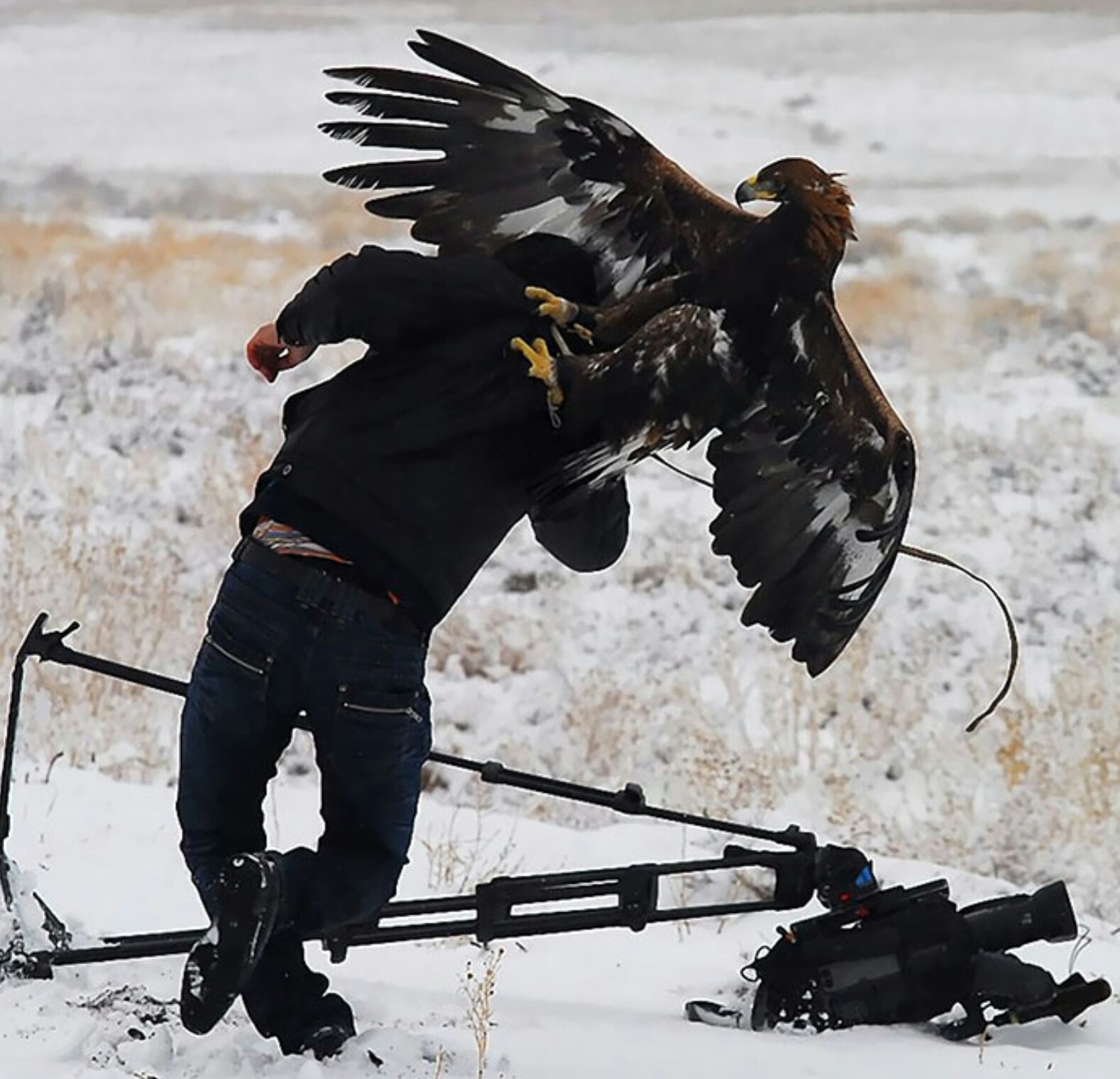 Funny photographer pictures
Below we would like to present you some examples of interesting photographers who take their funny photographer pictures in unusual conditions and positions. Some of these photographs were taken in nature, some in water and several in the city.
1. Masking - God's level
All photographers who are engaged in animals photography had dealing with a masking. But this man went the farthest and decided to merge with the objects of his photography.
2. Snowball
This is another kind of disguise, only not in the water, but in a colder place. In such cases, the photographers reveal their hidden talents for building. In addition, it can protect photographer from the wild animals.
3. Something went wrong
As you can see in the photo, this time the photographers didn't think properly about the protection. And as a result, the object of photoshooting noticed them and wasn't happy with the intrusion into private life. We would like to draw attention to the person who runs away with the reflector, because he has a rather cheerful facial expression as for such a situation. Apparently he was the cause of this situation.
4. Everything goes according to plan
Probably this phrase is in the head of a photographer who takes photos of volcano. And he absolutely doesn't care about the tripod and the shoes that burn because he takes an incredibly beautiful and at the same time frightening photograph.
5. One photoshot one opportunity
This is true, because at the time this image was taken, there was no opportunity to view, delete and take a new photo. Therefore, this man can be called a daredevil not only because of where he takes a photo but also because of he had only one chance. There is also a small chance that this is a photoshop, because we don't fully understand what happened to his legs.
6. Who shoots first?
Often photographers, especially reporters, have to take pictures at very hot spots or in places with a high degree of conflict. This photo is an example. We hope that this was a planned image in order to show the intensity of emotions.
7. Catch the wave
Maybe at first sight you will not even notice the photographer in this photo, which is located to the right of the wave. This photo once again shows us the courage or recklessness of some strange photographers who are ready to go for anything for the perfect photo.
8. The young naturalist
It's good when children are taught to photograph from childhood, but in the first place this should also be safe. We are sure that this boy managed to take an excellent photoshot and also we hope that all safety measures were taken during the holding of this photosession.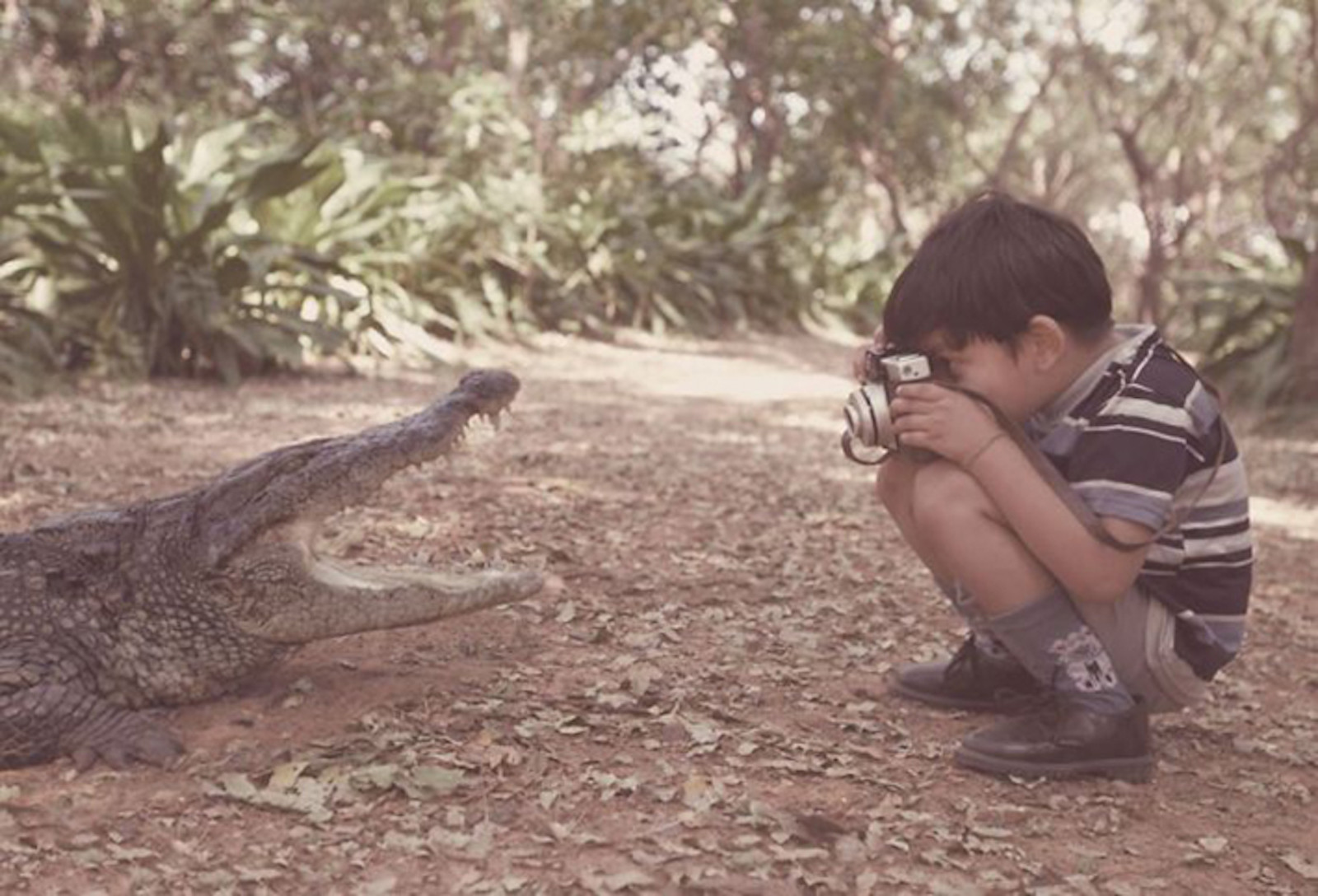 9. Not afraid of mud
In order to make interesting photographs, funny photographer should not be afraid of mud. This boy is a good example. Yes, most likely, his mother will not be happy with his funny photographer picture. But we are sure that the boy received the incredible pleasure of photoshooting and it wasn't his last experience in this style of photography.
10. Waiting for a miracle
Quite often it happens that funny photographers need to take some position and spend several hours in waiting of a miracle - the moment when they have the chance to take an interesting photo. And in the majority of cases it is necessary to wait in very uncomfortable conditions.
11. I – Ingenuity
In order to be a funny photographer, sometimes it's need to take quite uncomfortable poses. But there are also cases when it's necessary to show ingenuity in order to obtain a photo from an unusual perspective. We don't know where this man took the stepladder, but we think he achieved the desired result.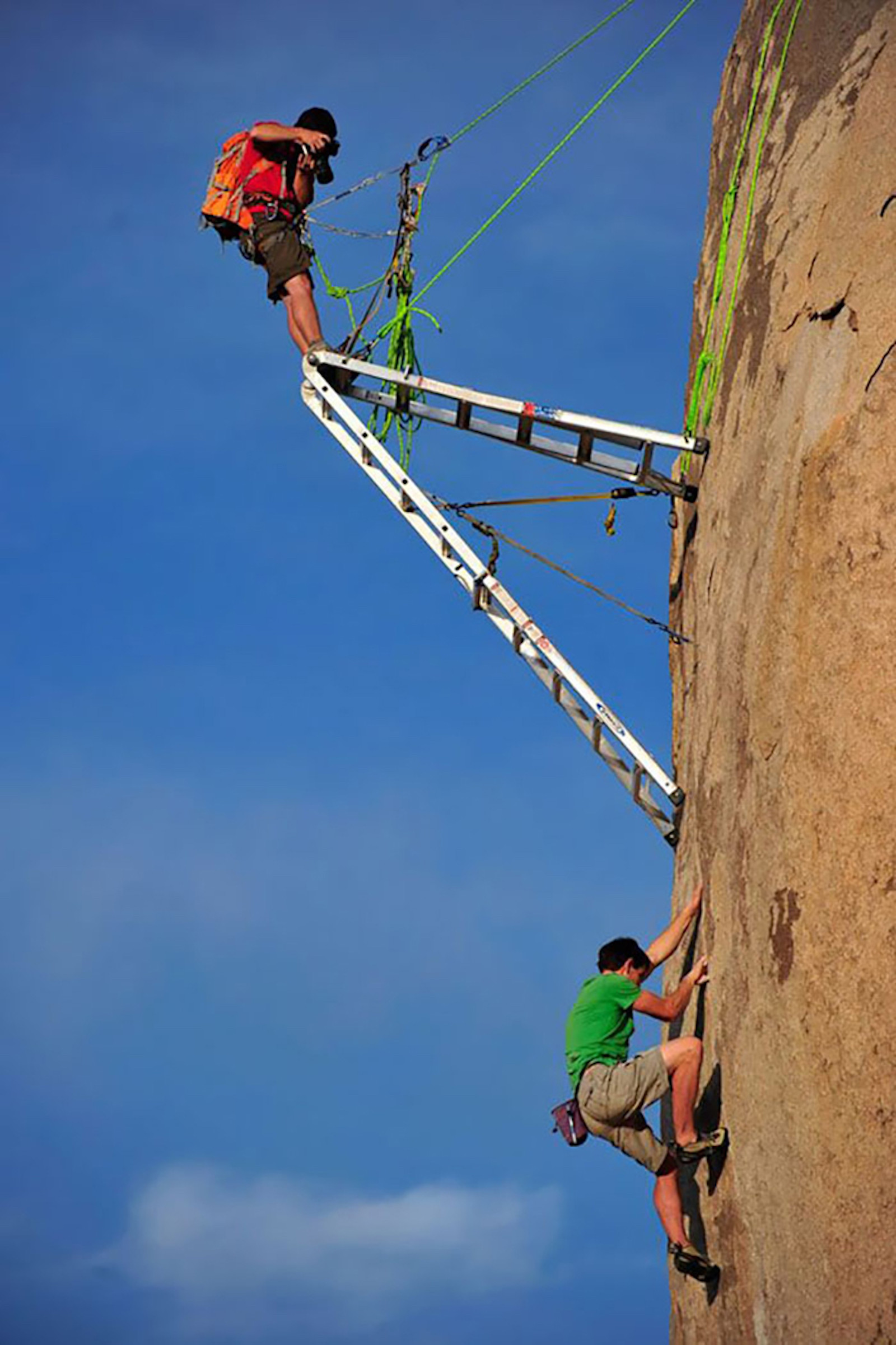 12. Like a boss
We all know that the more lenses you have, the more you can get a variety of photos from different angles, distances and blurring. This man clearly understands the whole power of the variety of lenses and we can assume that he is ready for any situations.
13.
Extreme and danger

We think you will agree that water sport is one of the most fascinating kinds of sports photography. Because in addition to the action in the sport on the photo there comes the charming water itself. But we also advise you to be attentive and to beware of the dangers that may be waiting for you there when you are funny taking pictures.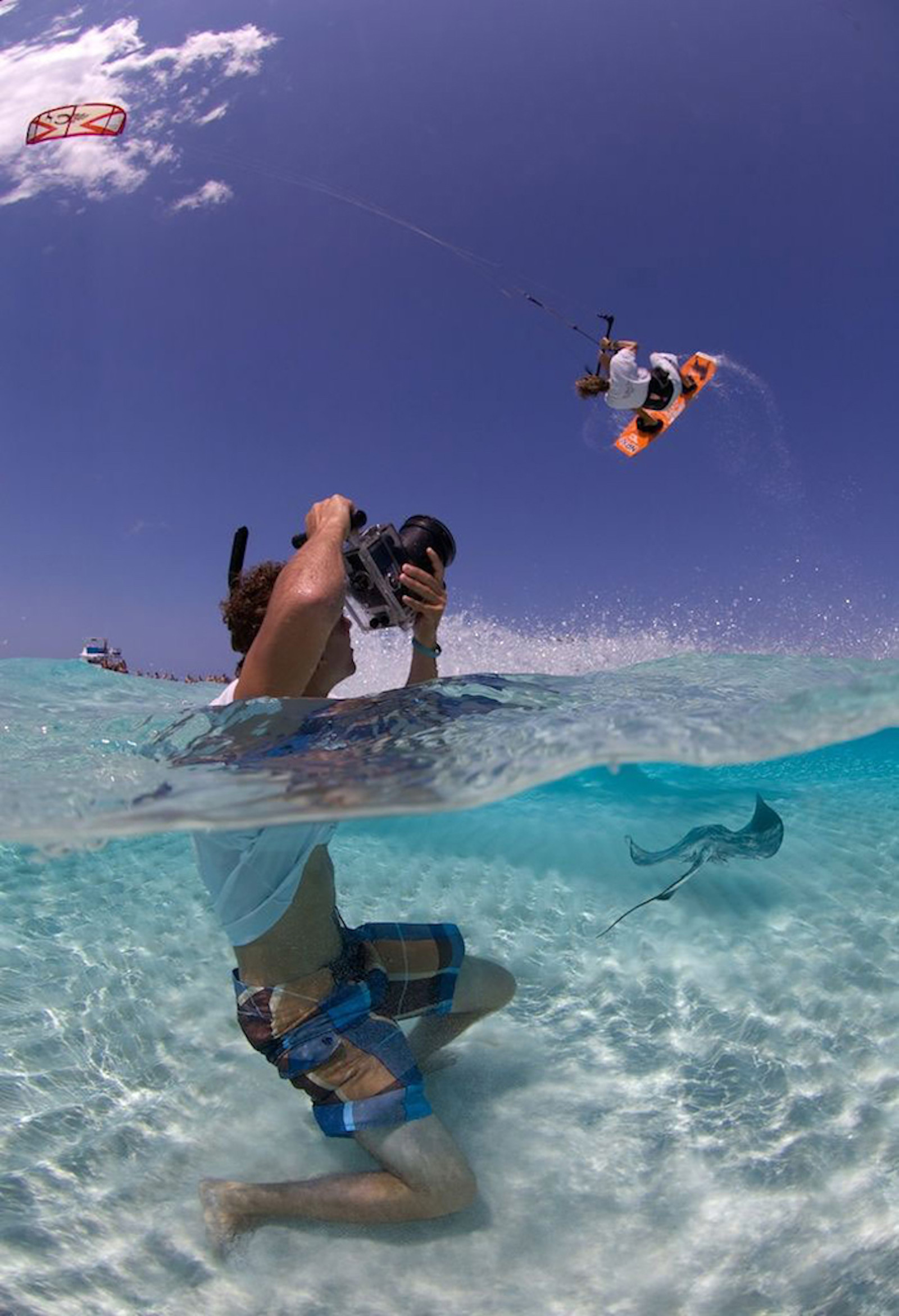 Examples of funny poses for pictures for PHOTOGRAPHERS
Fanny photographers are so focused on taking an ideal photoshot that they often don't think about how they look from the outside. For this reason, we decided to share with you some images with ridiculous poses of photographers.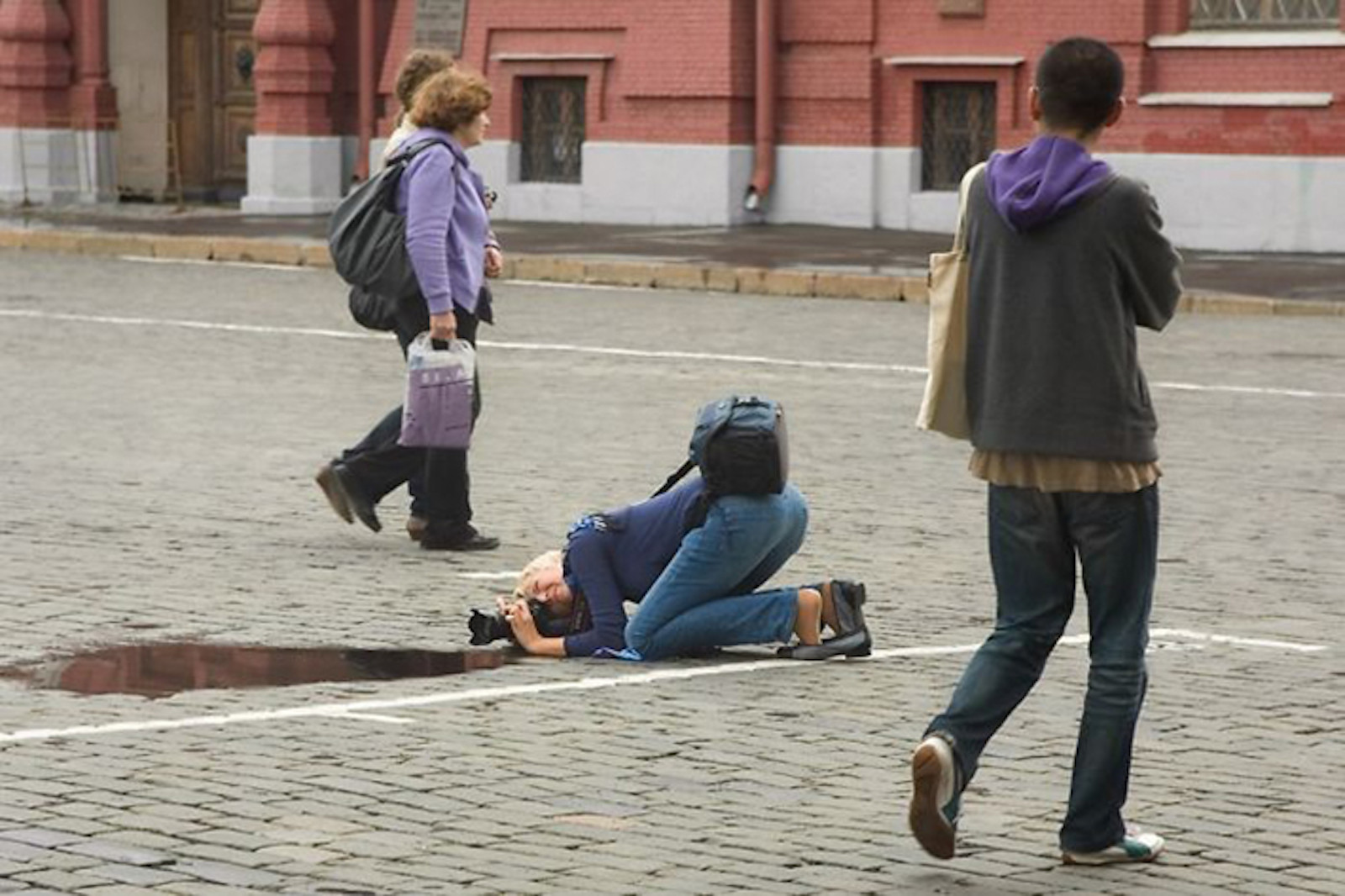 1. The easiest pose
If you are looking for an original angle for photoshooting, in most cases it's enough to just get higher or lie down. In order to get a rather interesting perspective, the fun wedding photographer decided to lie down on the floor in this photo.
2. Gymnastic style
It happens that in order to take a photo from an unusual and interesting perspective, photographers may need some skills that are not related to photography. As in this case - gymnastics. Most likely, this girl simply didn't want to spoil her clothes and she did not have time to put something under herself. So she can't lay down on the floor as the man in the photo above?
3. Protection above all
Sometimes funny photographers need to take photos in different weather conditions. One of the most frequent is rain. If you have a camera without dust and moisture protection, you better not take a chance with the photo during the rain. But as always there are people who can come out of any situation.
4. A second before
Most sports photographers try to capture the most impulsive and stressful moment in the sport. Unfortunately sometimes it can be traumatic. We hope that with this guy in the end everything was fine.
5. See - not important
At times there are situations where you can take a stunning image only in such situations when you can't see what you are photographing. In such cases, the main thing is to trust yourself and your photographer's feelings.
Funny photography project made by smartphone

Sometimes photographers find it difficult to find inspiration. But now it is much easier to do than before. Today it's popular to compare people and places in the photos with images of famous characters from movies or cartoons on the smartphone. Therefore, we have prepared for you seven examples of such comparisons.
1. Boy, this is my leg
This funny photographer picture shows how the photographer perfectly combines the panda from the cartoon "Kung Fu Panda" and the bear statue. It feels like a panda doesn't like the fact that the boy is standing on his leg.
2. Thank you for your company, bro
If you watched the movie "Forrest Gump", you remember that he often was alone. Therefore, the funny photographer decided that Forrest needs a company and he put him next to his son.
3. Upgrate of bow
Here we can assume that the photographer decided to upgrade the Katniss Everdeen's bow from the movie "Hunger Games", made it bigger.
4. Trick or Treat's
Father thought about this phrase and decides to give it a more adult look. For this he used a scene from the film "Pulp Fiction".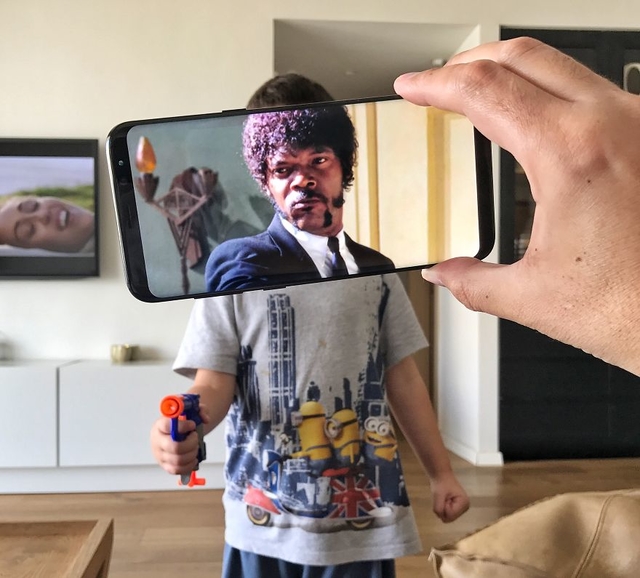 5. Nice burger
Again the funny photographer decided to use the scene from the "Pulp Fiction", but this time in order to convey the insatiable appetite of his son and his addiction to the burgers.
6. Alive character from the cartoon
If you or your friends have a private jet, and on the smartphone you have the saved frame from the cartoon "Planes", then you can easily revive one of the characters of this cartoon.
7. I'll be back
And of course we couldn't go through such a legendary film as "Terminator". The scene where Schwarzenegger expose part of his robot skull, will suit almost any situation.
The scene of the funniest wedding photos

Wedding photography is a separate kind of what funny poses photographers can take. Because they need to achieve the most interesting and non-standard angles, in order to pictures will capture all the emotions of that day. Some photographers approach this very seriously. Therefore, below we decided to show you several examples of dedication.
1. The castle and the lake
In order to make the photo with the castle even more beautiful, this photographer decided to use a puddle in the form of a lake. And he wasn't embarrassed that for this it was necessary to go to the center of this puddle.
2. The effect of the lake
Another example of how a regular puddle can be turned into a beautiful pond. This time, the photographer wasn't even afraid to lie down completely and stain his clothes. Do you agree that this is a bit of a funny pose for taking a picture?
3. The lacy photoshoot
At first you may be surprised by the funny pose for picture of this photographer. But this photographer showed creativity and decided to make a photo in a "lacy style".
4. Back in childhood
In order to give the photos a more lively and fervent look, this interesting photographer decided to take a few photos on the carousel, thereby immersing the newlyweds in childhood and making their emotions real.
5. Help of friend
There are situations when you need to take a slightly higher position to get good photographs. But what if you are in a place where there is nothing to stand on? The answer is very simple - take your friend with you to the photosession.
6. Artificial rain
Even if the weather doesn't fit your idea for a wedding photograph, you can still find a way out. As, for example, photographers in this photo have made use of improvised materials for imitation of a rain.
7. Underwater wedding
In the photo below the photographers decided to go further and completely depart from the standard photoshooting of the wedding. They decided that the images in the water would be incredibly beautiful and original. We think that the bride will remove her mask, when the photographer will make the final photo.
In this article we have considered such a concept as a funny photographer. We saw what incredible results can be achieved using creativity and non-standard thinking. And we just had a little fun having reviewed the funny poses for pictures when photographers are trying to pick up the original camera angle.
It often happens that photographers who are engaged in extreme photography (photo of an erupting volcano or an impending huge wave) can take incredible photographs, but because of the conditions in which they were made, it's quite problematic to edit such photos. It is in such cases that our company is ready to come to your aid and edit photos of any complexity. Our retouchers have a lot of experience in photo post processing with poor quality or with lost fragments. Therefore, we invite you to familiarize yourself with our photo restoration samples and photo restoration prices.
Tell you friends about this article!

Would you rate the article?
The article has a rating of:
---
Would you like to discuss this article? Feel free too add comments.
Via Facebook:
Via Disqus: